The Big Book of Improv Games: A compendium of performance-based short-form games (Paperback)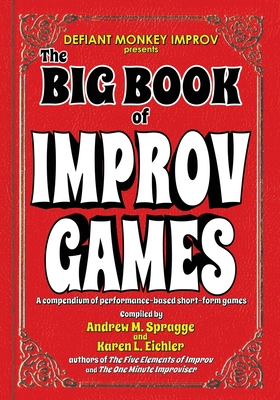 $25.99

Available in our warehouse. Ships in 2 - 3 Days
Description
---
There are improv games no one has ever played before.
Improv games no audience has ever seen before...
And now, they can all be yours
What would you do with a book containing over 500 improv games, many never before played on stage? How would you like to hold in your hands years of research, resulting in the most comprehensive collection of games ever published?
Are you ready to become an
Improv Powerhouse?
Feed your passion for improv, go beyond the basics, and turn good improv into
great
improv with
The Big Book of Improv Games
You'll discover over 500 ways to make stuff up, along with full, expert descriptions, tips, and variations so complete anyone from beginner to expert can pick up the book, read through any game, and
play it with confidence
Games are divided into convenient categories, making it easy for you to design an entertaining, varied play set for your show, jam, or practice:
Scene Games
Quirky Games
Non-Scene Games
Guessing Games
Singing Games
Step-Out Games
Games are cross-referenced with similar games so you can find new favorites to try Also included are helpful appendices, including:
Glossary of Improv Terms
Also Known As (alternate names for many games)
Named Variations
Game Categories (to help plan your show)
Audience Member Games
Dick Chudnow, Founder of ComedySportz calls
The Big Book of Improv Games
"A must-have for any improv actor or improv instructor "

Become an Improv Powerhouse - Say, "Yes, and..." to get your copy now