Keto Diet Cookbook: Heal Your Body & Lose Weight with 800 Healthy and Delicious Low-carb Recipes - 2 Weeks Meal Plan Included (Paperback)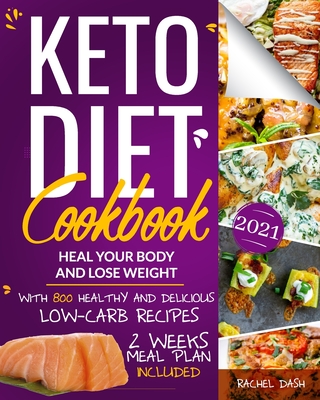 Description
---
First diet.
Second diet.
Diet with a nutritionist.
Diet with a dietician.
Diet with meal replacements.
Protein diet.
Suffering, sacrifices, recipes without eggs, milk, and various fats. For what? NOT EVEN A POUND
I know how you feel.
With my last diet, I lost around 23 pounds but, then I got it back. Why?
Because eating is beautiful It is a friend during sad times to retreat to or in dull moments when you don't know what to do.
But it can become a serious problem if you don't know how to control it.
What I learned in my weight loss journey is that the whole process has to start from the head. Otherwise, you will never reach your goal. And I dare say, you hit the ground running. You are here
Following a healthy diet is not exactly simple, and everyone knows this, especially if food has kept us tied for many years because we let ourselves be pampered.
For how many kinds of research, diets, nutritionists I have visited, now I am an expert
Keto Diet Cookbook is the proof, believe it or not

I don't know how much you know about the ketogenic diet, but what am I doing here?
Over time and with the various failures, I did a lot of research, in-depth and not, and I bumped into this type of diet. But what is it specifically?
The Ketogenic Diet is based on the reduction of dietary carbohydrates.
This reduction, in a certain sense, forces the body to independently produce the glucose necessary for the survival of the body to increase the energy consumption of the fats contained in the adipose tissue.

Don't worry if you don't fully understand. I explain it in more detail in Keto Diet Cookbook: 800 Delicious Low-Carb Recipes to Heal Your Body & Help You Lose Weight. 2 Weeks Meal Plan Included.
Another thing that doesn't help our diet is shopping Yes, because either for money or lack of ideas, we never know what to cook
That's why the Keto Diet Cookbook not only takes you deeper into a world you barely knew, it also takes away the burden of what am I eating today?

In Keto Diet Cookbook, there are 800 recipes ready to cook, ranging from breakfast to dinner; you just have to buy and prepare because we have already thought about everything
In addition to the 800 recipes in Keto Diet Cookbook, you will also find;
How to get rid of temptations;
The detailed explanation of the Ketogenic Diet and the different types of current Keto Diet;
What food to discard and what food you can eat;
10 No-fail Tips to Help You Live a Great Keto Lifestyle;
And a lot of other information
Don't wait any longer. Stop trying diets that don't work, stress you out, or make you gain more weight than you've lost.
BUY NOW and try Keto Diet Cookbook for a happy and healthy life