The Science of Destroying Adult ADHD: Stop Guessing, Quit Unnatural Treatments & Attain Superhuman Focus (Paperback)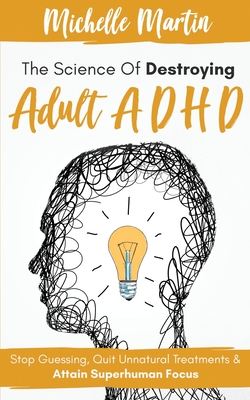 $7.95

Available in our warehouse. Ships in 2 - 3 Days
Description
---
Would you like to destroy attention deficit hypersensitivity disorder (ADHD) and take charge of your life? Then read on.
Michael Phelps, the swimming superstar, suffered from (ADHD) while still a youngster.
He first learned about his diagnosis at just nine years old. One of his teachers even wrongly predicted that Phelps would not amount to anything or become successful.
Despite this, Phelps went on to win 23 Olympic gold medals and became one of the most-decorated athletes in the world.
There are two things to take away from Phelps and his ADHD diagnosis: First, you can still live a fulfilling life with ADHD and secondly, you can learn how to manage your life even if you have ADHD.
If you're ready to take back control of your life, this book will teach you how.
Michelle Martin, a relationship counsellor from Washington D.C., brings you The Science of Destroying Adult ADHD.
Martin uses her understanding of the human mind, counselling experience, and her intensive research to show that you have an inherent power to handle ADHD. She uses simple language, without complex medical jargon, to teach you how ADHD works.
Not only that, she also reveals how to go after the root causes of this mental condition to overcome it once and for all.
That's not all. In this hard-hitting book on how to crush ADHD, you'll also discover:
The mega-self-limiting mistake that adults with ADHD make and a two-step technique to get rid of feelings of guilt, insecurity, and hopelessness.
How to address the treatment limitation gap from ADHD medication. This personalised approach helps you deal with the root causes for why you sought ADHD treatment in the first place.
The overlooked side-effects of stimulant drugs on the human brain.
How to dissolve the emotional baggage that distorts how you see things and yourself, which is central to destroying negative actions and the energy-sapping negative self-talk.
What ADHD really is...most doctors and typical Americans misunderstand this and make ADHD an unconquerable condition.
And much, much more
Dive in and implement the ideas and exercises included at the end of each chapter to see positive results quicker and start enjoying a fulfilling life
Imagine using less and less ADHD medication from one month to the next. Imaging living your life the way you were meant to: free.
Buy this book now, destroy your ADHD, and replace feelings of inadequacy, guilt, or embarrassment with confidence and courage.