Lacan Noir: Lacan and Afro-Pessimism (Palgrave Lacan) (Hardcover)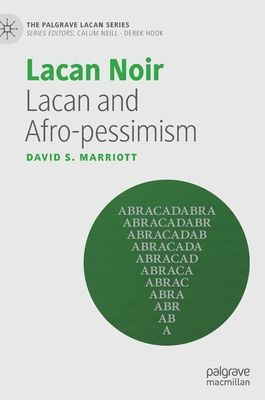 $109.99

Available for special order
Description
---
This book explores how Jacques Lacan has influenced Black Studies from the 1950s to the present day, and in turn how a Black Studies framework challenges the topographies of Lacanianism in its understanding of race. The author examines how a contemporary Black Studies perspective might respond to the psychoanalysis of race by taking advantage of the recent revitalization of Lacanianism in its speculative, metaphysical form.
While the philosophical side of the debate makes a plea for a new universalism, this book proposes a Lacanian reassessment of the notion of race, a notion distinct from culture, language, religion, and identity. In doing so, it reframes the question of a universal ethics (of the Real) in terms of what may be termed a black topology, with the role played by identity reduced, and the centrality of jouissance rethought as a precise economic and historical question. It argues that it is possible to re-establish the theoretical relation between capitalism, anti-blackness, and colonialism, by reassessing the links between Lacanian psychoanalysis and three main domains of black inquiry: mastery, knowledge, and embodiment. Borrowing from Frantz Fanon's theory of negrophobia as an unconscious and institutional-linguistic structure, it considers the genesis of imago, ego, and racial-sexual anxiety both explainable through a multilayered framework which comprises psychopolitical insights and material history in a comprehensive account.
This invented theoretical space is an opportunity for both philosophers and psychoanalysts to rethink key Lacanian insights in light of the problem of blackness. It will appeal to students and scholars of Black Studies, Cultural Studies, Critical Theory and Philosophy.
About the Author
---
David S. Marriott is Liberal Arts Professor of Philosophy and African American Studies at The Pennsylvania State University, USA.