The Complete Healthy Smoothie Recipe Book: Smoothie Cookbook Smoothie Cleanse Smoothie Bible Smoothie Diet Book (Paperback)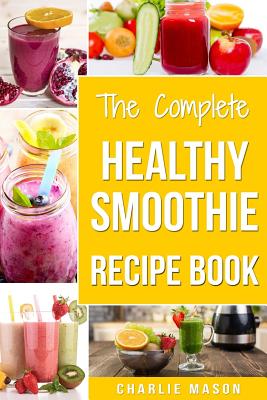 $11.99

Available in our warehouse. Ships in 2 - 3 Days
Description
---
If you are ready to put a stop to being tempted by convenience foods and becoming agitated at the hum-drum of eating betterThen you will be surprised at what this smoothie recipe book has to offer for your valuable time and your overall health Smoothies are an amazing creation that has the power to withhold a variety of good-for-you ingredients all in one delicious concoction. If you are looking to lose weight, get a better boost of energy that lasts longer, eager for more radiant skin, or just seeking an easy way to consume your fruits and veggies, then this book is just the right fit for you
Fruits and vegetables should be always part of the human diet
They supply our body with the vitamins and minerals needed to boost the immune system and for the body to function properly. Smoothies are great drinks that changes how you intake fruits and veggies to your body.
With smoothies, you are likely able to consume a cup of whole fruits and veggies 3x faster than when you eat them solid. Amazing, right?
In a study, it has been found that only 4% of students eat a serving of fruit in their breakfast. But when fruits were served in schools as smoothies, the number of students eating full serving of whole fruit increased to 45%. That's how smoothies create a strong impact to our health and diet.
Many of us don't have the time to whip up breakfast and snacks, but everyone has the time to blend up a healthy and delicious smoothie that not only satisfies the taste buds but fuels us with energy, vitamins, and nutrients our bodies crave.
This is what makes smoothies perfect any time of the day
You can quickly make yourself a smooth, tasty smoothie in just a zap in your blender. No need to preheat the oven, no need to turn on the stove, no need to clean skillets and pans and tongs and other stuffs - just drop the ingredients in the blender and voila A smoothie is served, a great beverage to make you feel full and will make you healthy.
This book is jam-packed with easy-to-make healthy smoothies in an assortment of flavor. The recipes were categorized based on their optimum benefit for the health. We have smoothie recipes for anti-aging, for boosting and amplifying energy, and smoothies filled with antioxidants and other much-needed minerals and vitamins.
Here's a quick sneak peek to some recipes:
Vitamin E Green Smoothie
Zesty Fat Burner Smoothie
Alkalinity Bliss Smoothie
Toxic Blast Cleansing Smoothie
Morning Magic Smoothie
Leafy Anti-Aging Power Smoothie
Kick Booty Kale Smoothie
Being healthy does not have to be hard Make taking care of your health easy with this book filled with more than 100 smoothie recipes You are the only one stopping yourself from becoming the healthiest version of yourself possible.
What are you waiting for? A better life and extraordinary health are just one blend away -------
Tags: Smoothie Recipe Book: Smoothie Recipes Smoothie Recipes Smoothie And Juice Recipe Book Smoothie Diet Smoothie Maker Machine Smoothie Cookbook Smoothie Cleanse Smoothie Bible Smoothie Diet Book smoothie recipe book smoothie recipes smoothie recipe smoothie recipe book for weight loss healthy smoothie recipe book green smoothie recipe book smoothie recipe book hardcover superfood smoothies superfood smoothies superfood smoothies book superfood smoothies cookbook smoothie recipe books for blenders smoothie recipe book free smoothie recipe cups superfood smoothies vitamix nutribullet cookbook smoothie cookbook delicious healthy smoothies slimming smoothies healthy smoothies for dinner smoothie meals healthy smoothie cookbook libro de recetas de batidos libro de recetas de batidos para bajar de peso Smoothie Rezeptbuch gesundes Smoothie Rezeptbuch ricettario frullato Ricettario per