How the Penguins Saved Veronica (Paperback)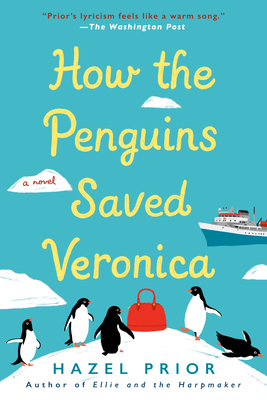 $17.00

Available in our warehouse. Ships in 2 - 3 Days
Staff Reviews
---
T.H.U.R.S. Book Club selection, December 2021, Redbery Books, Cable, WI.
— From
T.H.U.R.S. Book Club
Description
---
A curmudgeonly but charming old woman, her estranged grandson, and a colony of penguins proves it's never too late to be the person you want to be in this rich, heartwarming story from the acclaimed author of Ellie and the Harpmaker.

Eighty-five-year-old Veronica McCreedy is estranged from her family and wants to find a worthwhile cause to leave her fortune to. When she sees a documentary about penguins being studied in Antarctica, she tells the scientists she's coming to visit—and won't take no for an answer. Shortly after arriving, she convinces the reluctant team to rescue an orphaned baby penguin. He becomes part of life at the base, and Veronica's closed heart starts to open. 

Her grandson, Patrick, comes to Antarctica to make one last attempt to get to know his grandmother. Together, Veronica, Patrick, and even the scientists learn what family, love, and connection are all about.
About the Author
---
Hazel Prior has had short stories published in literary magazines and has won numerous writing competitions in the UK. She is a harpist who lives in Exmoor, England, and Ellie and the Harpmaker was her first novel.
Praise For…
---
Praise for HOW THE PENGUINS SAVED VERONICA
 
"[A] light, fun story...this adorable tale will put a smile on your face."—Good Housekeeping

"This feel-good novel features a prim, rather stubborn 86-year-old British heroine named Veronica McCreedy, who will steal your heart....A fun read that brings to mind Maria Semple's 2012 best seller, Where'd You Go, Bernadette? — because of its humor as well as its fleeing-to-Antarctica theme — and a heartwarming tonic for troubled times."—AARP

"A warm and witty journey of self-discovery. Prior proves that it's never too late to become the person you were meant to be. But it might require a trip to Antarctica. And penguins."—Wendy Wax, USA Today bestselling author of My Ex-Best Friend's Wedding
 
"Veronica McCreedy is an unforgettable heroine. Crotchety, clever and oddly lovable, she kept me turning pages well into the night. Prior has given us a story of love, loss, forgiveness, and the unlikely bonds that form when we least expect it. Humorous and true with finely-drawn characters."—Elyssa Friedland, author of The Floating Feldmans
 
"A beautiful expedition into Antarctica, but more importantly, the human heart. Hazel Prior has written a sweet and timely story about how one cranky old woman is no match for a tiny, adorable penguin chick."—Brooke Fossey, author of The Big Finish



Praise for Ellie and the Harpmaker

"Uplifting escapism...fresh and sweet...Prior's lyricism feels like a warm song."--The Washington Post

"How I loved this book! An uncommonly lovely story told with elegance, insight, and so much heart. Hazel Prior's brilliant debut will delight."--Kristan Higgins, New York Times bestselling author of Life and Other Inconveniences

"A beautiful love song of a story, wonderfully told with a warm heart and much hope. Hazel Prior's writing is a lyrical delight."--Phaedra Patrick, international bestselling author of The Curious Charms of Arthur Pepper

"Ellie and Dan, both delightful, down-to-earth characters, selflessly put each other's needs ahead of their own, and fans of fast-paced romantic stories will enjoy watching them discover true happiness together."--Publishers Weekly

"With the character-driven charm of Liane Moriarty's and Sara Baume's novels.... Delightfully heartwarming....Guaranteed to tug at readers' heartstrings."--Booklist