The Longest Race: Inside the Secret World of Abuse, Doping, and Deception on Nike's Elite Running Team (Hardcover)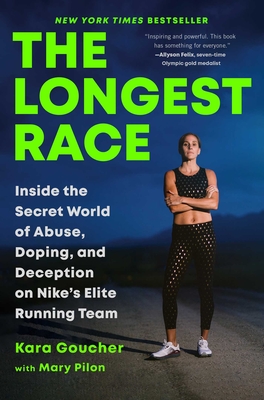 $28.00

Available in our warehouse. Ships in 2 - 3 Days
Description
---
INSTANT NEW YORK TIMES BESTSELLER

In "one of the most important athlete memoirs of its generation" (Kate Fagan, #1 New York Times bestselling author), Olympian Kara Goucher reveals her experience of living through and speaking out about one of the biggest scandals in running.

Kara Goucher grew up with Olympic dreams. She excelled at running from a young age and was offered a Nike sponsorship deal when she graduated from college. Then in 2004, she was invited to join a secretive, lavishly funded new team, dubbed the Nike Oregon Project. Coached by distance running legend Alberto Salazar, it seemed like the opportunity of a lifetime.

Kara was soon winning a World Championship medal, going to the Olympics, and standing on the podium at the New York and Boston marathons, just like her coach had done. But behind the scenes, Salazar was hiding dark secrets. He pushed the limits of anti-doping rules and created what Kara experienced as a culture of abuse, the extent of which she reveals in her book for the first time. Meanwhile, Nike stood by Alberto for years and proved itself capable of shockingly misogynistic corporate practices.

The Longest Race is an unforgettable story that is "as interesting as it is important" (Molly Huddle, two-time Olympian) and also a crucial call to action. Kara became a crusader for female athletes and a key witness helping to get Salazar banned from coaching at the Olympic level. The Longest Race will leave you "motivated, empowered, and ready to take on the world" (Allyson Felix, Olympic gold medalist) as it reveals how Kara broke through the fear of losing everything, bucked powerful forces to take control of her life and career, and reclaimed her love of running.
About the Author
---
Kara Goucher is a three-time NCAA champion, two-time Olympian, winner of the silver medal at the 2007 World Championships in the 10,000 meters, and a podium finisher at the Boston and New York Marathons. She is a running analyst for NBC Sports. She cohosts the hit running commentary podcast Nobody Asked Us with Des & Kara, as well as the Clean Sport Collective podcast, promoting fair play in sports. She lives in Boulder, Colorado, with her Olympic-runner husband, Adam, and their son, Colt. Her website is KaraGoucher.com.

Mary Pilon is the New York Times bestselling author of The Monopolists and The Kevin Show. She cowrote and cohosted the audio series Twisted: The True Story of Larry Nassar and the Women Who Took Him Down. She previously covered sports at The New York Times and business at The Wall Street Journal. She is a story producer on BS High, HBO's documentary about the Bishop Sycamore High School football scandal. Find more of her work at MaryPilon.com.
Praise For…
---
"In her new memoir, Goucher says for the first time publicly that she is the woman behind the sexual assault allegations that led to her former coach Alberto Salazar to be banned from the sport for life in 2021."
—Good Morning America

"Shook me to my core . . . Goucher's indelible strength, both as a driven elite athlete and an assault survivor, will make you want to scream and fight for justice."
—Rachael Xerri (Audible)

"The world silver medalist's memoir lays bare why female athletes may never realize their full potential under systems still rife with inequity, abuse, and harassment . . . Goucher reveals just what she endured in order to achieve as much as she did in her running career . . . her transparency about so much of her career is what elevates this memoir as perhaps the most important contribution she'll ever make to women's sports."
—Women's Running

"Kara's story is inspiring and powerful, and she shares it with vulnerability and honesty. This book has something for everyone, whether you're a seasoned runner, just starting out, or don't think you have any interest in running at all. A must-have for your bookshelf, it leaves you motivated, empowered, and ready to take on the world. Thank you, Kara, for sharing your story and reminding us all that we are stronger than we know."
— Allyson Felix, seven-time Olympic gold medalist and twelve-time World Championship gold medalist

"Stunning in its honesty and intimacy, The Longest Race is one of the most important athlete memoirs of its generation. Kara Goucher takes us inside a breathtakingly complex world, showing us the love and beauty of sport as well as its gruesome abuses of power, callous cruelty, and disregard for the athlete—specifically the female one."
— Kate Fagan, #1 New York Times bestselling author of What Made Maddy Run: The Secret Struggles and Tragic Death of an All-American Teen

"Kara Goucher's journey is dramatic and alarming. Beyond that, she and Mary Pilon have put together a stellar work of investigative journalism. The Longest Race will break your heart and blow your mind."
— James Andrew Miller, #1 bestselling author of Those Guys Have All the Fun: Inside the World of ESPN

"A lightning-quick runner who would go on to become a two-time Olympian and the face of Nike, Kara had no idea that her 7 years with the Oregon Project would elevate her career to soaring new heights — and drag her into one of the darkest chapters of her life. In her explosive new memoir, Kara opens up about how she and [her husband] Adam helped expose Salazar — the once-beloved coach they regarded as a father figure."
—People

"This must-read memoir for running fans is as interesting as it is important. Told from Kara's vantage point as a distance running star, it also serves as a call to action for women and girls to tell their stories of abuse and power imbalances—hard as that may be—so they can give each other strength, push back as a flock, and make things better for the next wave."
— Molly Huddle, two-time Olympian, American record holder in the half-marathon and 5,000 meters, and coauthor of How She Did It: Stories, Advice, and Secrets to Success from Fifty Legendary Distance Runners

"The Longest Race is a striking reminder of the importance of using your voice. Kara's courage to stand up against the powers that be has helped pave the way for change. Her book is essential reading for anyone who wants to make sports safe and fair for everyone."
— Mary Cain, Founder of Atalanta NYC and 2014 World Junior Champion in the 3,000 meters

"Both books — Goucher's and [Lauren] Fleshman's — should be victory laps for two celebrated runners. But that's not the sort of book either woman set out to write. Each has produced something much grittier: a close-up look at the uncertain and often unhealthy climb toward stardom for women in organized sports."
—The Washington Post

"Goucher is finally telling the whole story of her experience at The Oregon Project in her book The Longest Race, written with sports journalist Mary Pilon . . . the details around how sexual and emotional abuse can be so expertly intertwined to convince victims not to seek help, and even question their own experiences, is a chilling, but necessary story."
—Sports Illustrated

"The Longest Race is a fearless self-examination of Goucher's life and career . . . the book has resonated within the athletic community as women's sports continue to face a necessary reckoning and remake themselves."
—Duluth News Tribune

"Reducing The Longest Race to the single story of assault would be a huge mistake . . . [it's] a rare look inside the highest levels of the sport and its players . . . there are Olympic moments, inside scoops, sports industry revelations . . . Yes, athletes will love this book, but it's also a memoir for anyone who has put their heart on the line."
—Oiselle

"The distance runner's new memoir details years of abuse and indignities in her sport . . . Goucher has much to be proud of, on and off the track. Perhaps we'll remember her most for the voice she found to hold others to account, so that all of us, her son included, could believe in the sport she loved."
—The Star Tribune

"A track-and-field star pulls the lid off the big money behind corporate sponsorship of sports. Goucher makes a strong case against a powerful sports machine."
—Kirkus

"[Goucher] shares her history of money and transitioning from running for fun to running for money…and then the triumphant battle back to running for joy. It's a story about greed, power, disturbing abuse, and more (doping, NCAA violations…), and yet is still an uplifting, empowering story."
—Stacking Benjamins

"The Longest Race is an eye-opening read into the inner workings of professional road and track racing at the highest level and also the pressures that go along with it."
—The Boulder Daily Camera