The Devil's Punchbowl: A Novel (Paperback)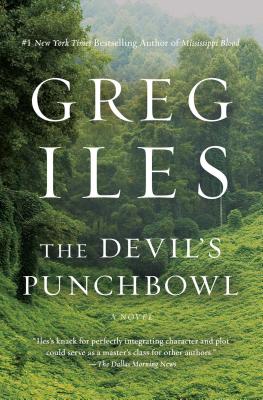 Description
---
From the #1 New York Times bestselling author of the Penn Cage series and the Natchez Burning trilogy comes "a steamy, swampy tale of international nastiness" (Kirkus Reviews) in an electrifying thriller that reveals a world of depravity, sex, violence, and the corruption of a Southern town.

As a prosecuting attorney in Houston, Penn Cage sent hardened killers to death row. But it is as mayor of his hometown—Natchez, Mississippi—that Penn will face his most dangerous threat. Penn has ridden into office on a tide of support for change. But in its quest for new jobs and fresh money, Natchez has turned to casino gambling, and now five fantastical steamboats float on the river beside the old slave market at Natchez. But one boat isn't like the others.

Rumor has it that the Magnolia Queen has found a way to pull the big players from Las Vegas to its Mississippi backwater. And with them come pro football players, rap stars, and international gamblers, all sharing an unquenchable taste for one thing: blood sport—and the dark vices that go with it. When a childhood friend of Penn's who brought him evidence of these crimes is brutally murdered, the full weight of Penn's failure to protect his city hits home. So begins his quest to find the men responsible. With his family's lives at stake, Penn realizes his only allies in his one-man war are those bound to him by blood or honor. Ultimately, victory will depend on a bold stroke that will leave one of Penn's allies dead—and Natchez changed forever.

The Devil's Punchbowl is a "knockout thriller that's just the right degree of chilly to combat the dog days of summer…Iles's knack for perfectly integrating character and plot could serve as a master's class for other authors" (The Dallas Morning News). This is "much more than just an exciting read" (Publishers Weekly, starred review).
About the Author
---
Greg Iles was born in 1960 in Germany, where his father ran the US Embassy medical clinic during the height of the Cold War. After graduating from the University of Mississippi in 1983, he performed for several years with the rock band Frankly Scarlet and is a member of the lit-rock group The Rock Bottom Remainders. His first novel, Spandau Phoenix, a thriller about Nazi war criminal Rudolf Hess, was published in 1993 and became a New York Times bestseller. Iles went on to write numerous bestselling novels including Third Degree, True Evil, Turning Angel, Blood Memory, The Footprints of God, the Natchez Burning trilogy, and 24 Hours (released by Sony Pictures as Trapped, with full screenwriting credit for Iles). He lives in Natchez, Mississippi.