Getting Started with DaVinci Resolve 18 (Paperback)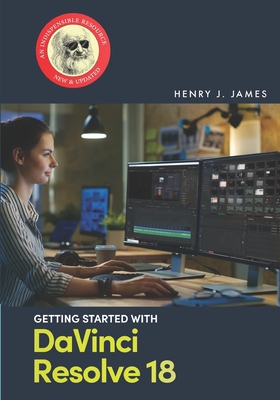 $29.95

Available in our warehouse. Ships in 2 - 3 Days
Description
---
About the Book
Davinci Resolve 18 is an extremely powerful professional video editing system that's been used on more than 300 feature films and is currently the post-production system of choice on dozens of network and streaming shows. But learning any professional video editor can be quite a challenge. If you've struggled trying to learn Resolve, or are completely new to video, Getting Started with DaVinci Resolve 18 will get you up and running from the very first lesson. You'll start by shooting a simple "talking head" video with your own camera and progress to more sophisticated videos using green screen and object tracking and replacement. Even if you've never made a video before, the book will show you how to shoot and edit professional-looking videos suitable for YouTube and other social media channels-or whatever you plan to do with video. After completing only a few basic-end-to-end-exercises, you'll be able to use Resolve's powerful video editing suite and stunning visual effects to create spectacular videos of your own. And since many people have difficulty running Resolve on their home computer, the book also includes advice about setting up Resolve to run on your existing hardware without expensive upgrades. DaVinci Resolve 18 is a great choice for anyone serious about video-even beginners-because it's a complete, all-in-one, video production system that will let you do about anything you can think of with video. Learn DaVinci Resolve 18, and you'll likely never need to learn another video editing system. Who this Book is For
Getting Started with DaVinci Resolve 18 is designed to help new users or those struggling to learn this exceedingly powerful professional video editing system. If you've tried to learn Resolve on your own but have been frustrated by its complexity, the book will quickly help you get past Resolve's learning curve. The book is easy to follow and loaded with real-world, practical advice and examples from professional film and video editors that will help you quickly master Resolve's many intricacies. If you want to create professional-looking videos, with your existing gear and with less hassle and effort, get the book and learn how the pros do it. What's in the Book
The book starts with chapters on shooting video and recording audio that will be easier to edit. You can skip these chapters if you don't need them but they are there if you do. Then... In EXERCISE UNO, you'll shoot and edit a straightforward "talking head" video. Nothing could be simpler. But in doing so, you'll learn how to import media, how the Media, Edit, Color, and Deliver pages work, creating and copying Nodes, navigating the Timeline, using text and titles, setting audio levels and EQ, as well as encoding for YouTube, Vimeo, or wherever. For EXERCISE DUE, you'll shoot a Chroma Key video (green screen) and composite it with a background plate. You'll learn the basics of grading and creating garbage mattes and compound clips. EXERCISE TRE will give you some experience grading footage and improving the look of your videos with visual effects using both Tracker and Qualifier as well as Intuitive Object Mask, which is new for Resolve 18. Once you know how to operate Qualifier and Tracker, you'll have no trouble applying hundreds of visual effects. EXERCISE QUATTRO covers tools like Object Removal and Patch Replacer. There are also exercises using smartphone video, making and using stills, as well as creating thumbnails for YouTube. Finally, there are separate chapters that cover each of Resolve's main functional areas, a chapter on backing up and archiving your work, and chapters on improving Resolve's performance.