Run or Die (Paperback)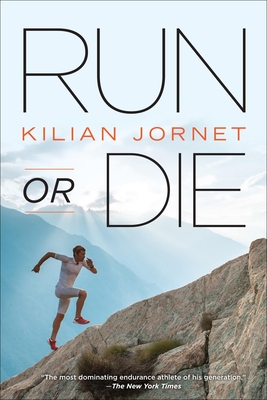 Description
---
Shortlisted for the 2014 William Hill Sports Book of the Year Award
National Geographic Adventurer of the Year 2014
The most dominating endurance athlete of his generation. "The New York Times"
An exceptional athlete. A dominating force. An extraordinary person.
Kilian Jornet has conquered some of the toughest physical tests on the planet. He has run up and down Mt. Kilimanjaro faster than any other human being, and struck down world records in every challenge that has been proposed, all before the age of 25. Redefining what is possible, Jornet continually pushes the limits of human ability, astonishing competitors with his near-superhuman fitness and ability.
Born and raised at 6,000 feet above sea level in the Spanish Pyrenees, Jornet climbed an 11,000 foot mountain the highest mountain in the region at age 5. Now Jornet adores the mountains with the same ferocity with which he runs them. In Run or Die he shares his passion, inviting readers into a fascinating world rich with the beauty of rugged trails and mountain vistas, the pulse-pounding drama of racing, and an intense love for sport and the landscapes that surround him.
In his book, Jornet describes his record-breaking runs at Lake Tahoe, Western States 100, Ultra-Trail du Mont-Blanc, and Mount Kilimanjaro the first of his ambitious Summits of My Life project in which Jornet will attempt to break records climbing the highest peaks on each continent.
In turns inspiring, insightful, candid, and deeply personal, this is a book written from the heart of the world's greatest endurance runner, for whom life presents one simple choice: Run. Or die.
Trail running's first true breakout star Jornet] has yet to find a record he can't shatter. "Runner's World.
About the Author
---
Kilian Jornet is a world champion ultrarunner and ski mountaineer from Catalonia, Spain. Born in 1987, he was raised in the shadow of the Spanish Pyrenees. By age 5 he had completed the ascent of Aneto, the Pyrenees highest peak. Among his many accomplishments in trail and ultra running, he is the four-time champion of Europe s Skyrunner World Series, three-time champion of the grueling Ultra-Trail du Mont-Blanc, and 2011 winner of the world s oldest 100-mile race, the Western States Endurance Run in California s Sierra Nevada. He has set speed records on mountains across the globe, including Mount Kilimanjaro, Africa s highest peak. He is currently at work on a long-term project combining ski alpinism and running, called Summits of My Life, which will include speed-record attempts on the world s greatest peaks, including Mount Aconcagua, Denali, and Mount Everest."