The Marketer's Guide to Law Firms: How to build bridges between fee earners and fee burners in your firm (Paperback)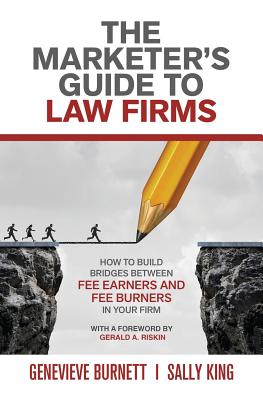 $19.99

Available in our warehouse. Ships in 2 - 3 Days
Description
---
Are you a marketer or business development professional who works in a law firm and finds it difficult to get projects off the ground?
Are you frustrated by your firm's slow decision-making process?
Do you find the lawyers you work with to be both risk averse and resistant to change? Are you concerned that many of them perceive the marketing team as ineffective and unresponsive?
Or are you a marketer who has just landed your first job in a law firm? Do you feel you've entered an unfamiliar world defined by hierarchy, as well as a rigid binary distinction between fee earners and fee burners?
If so, The Marketer's Guide to Law Firms: how to build bridges between fee earners and fee burners in your firm is a must-read book.
In this insightful and succinct analysis, Dr Genevieve Burnett and Sally King demonstrate that the primary reason law firms struggle with marketing is because, in most of them (whether in New York or Sydney), there is a fundamental problem with the relationship between lawyers and marketers.
What causes this gap? Why is this relationship so often dysfunctional?
By taking you on a journey through the structure and culture of law firms, as well as the different way lawyers and marketers think, this book will help you understand what makes both lawyers and their firms tick. Most importantly, it will give you the analytical framework to build more productive relationships with lawyers, so you can work together to create marketing and business development campaigns that deliver concrete results.