Text Fails: The Most Fun Messages Created by the Smartphone's Automatic Corrector. Smile with the Funniest Mishaps Ever (Paperback)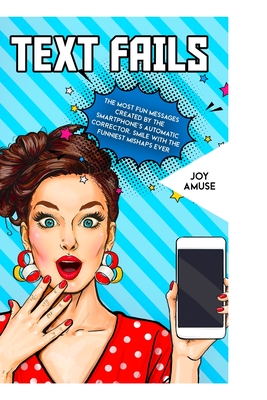 Description
---
Did you ever have dull moments where no one else has something interesting to say? Since you cannot be online all the time, it makes perfect sense to have a handy book of jokes with you all the time.
And this is where my book, Text Fails, comes in. It is a handy tool to keep you and your friends company when you are looking forward to having a good time
Have you ever sent a text to somebody only to realize seconds later it was sent to the wrong person? Maybe you received a text from a friend with some hard words in it about you, and then they innocently come back and say, "That wasn't meant for you." In this book, you will find some some cringe-worthy text interactions that were sent to the wrong person. It's always funnier when it happens to somebody else.
A failed text is always funny, and now that we have social media, it has become easier to share these failed texts as memes.
But why do they attract so much attention?
A text is real, and it is relatable because we all text. At some point, we all have misspelled words or even sent the text to the wrong person
As phones get more sophisticated, the fun in text fails is that they are ironic. Despite us having access to auto-correct, these features and software can sometimes be the cause of failed text messages.
Funny text messages come in all forms-from the mundane to the morbid, there is no shortage of funny text messages that can send you rolling in laughter.
What if you can access a lot of these from one source? Wouldn't it be a fun thing to have? Not only would you have an accessible collection of text fails that can brighten your day, but you also have a source of jokes that you can share
I thought about a lot of funny texts and collected them, too. In this book, you will be treated to a smorgasbord of failed text messages that would put you in a good mood.
We all want to have a mood booster, and this is what I am offering you. This book is comprised of:
- Parental text fails
- Dating text fails
- Autocorrect test fails
- And a whole lot more
Use this book as a source of funny anecdotes if you are with your friends. It certainly takes off steam and can help you de-stress at any given time.
While there are jokes here leaning towards an adult audience, all it takes is for you to choose which jokes apply to the right audience.
Text Fails is a book that applies to all occasions. You can use these jokes for your speeches, during a party, or even share it in your social media timeline. These jokes are guaranteed to stir emotions in people who see them, and they can help brighten someone's moods.
Position yourself as a master of jokes. Use this book to get ideas and refine them for your specific situation. Have fun reading and use them to communicate your thoughts, your emotions, and your feelings about your favorite social networks. Your friends will go crazy