The Effortless Juicing for Weight Loss: Quick & Easy, Delicious Juicing Recipes to Burn Fat, Loss Weight and Boost Energy (Paperback)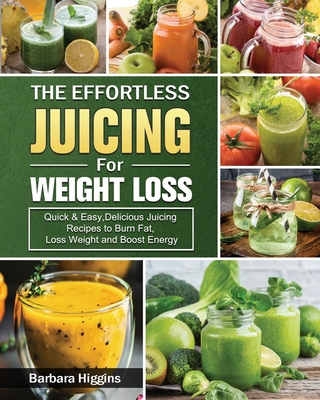 $15.99

Available in our warehouse. Ships in 2 - 3 Days
Description
---
If you've ever wanted glowing skin, better energy and vitality, a better mood, a slimmer body and freedom from sickness, then this guide is the answer for you You are just about to discover how to start juicing the RIGHT way so that you can be confident and relaxed that you are moving towards your best body ever
Losing weight is not just about looking good-it's about feeling good, too. Juicing for Beginners is the go-to guide to lose weight and enrich your body with essential vitamins and minerals.
The benefits of juicing are obvious. But is it as simple as placing all the content of your fridge in a juicer and squeezing the juice out of it? Certainly not. There are a few things one should consider before starting this exciting activity and among the first things is moderation. Juicing allows for momentary consumption of an arsenal of vitamins and thus a decent amount of calories, so make sure you don't put the stress of fruits, rich in carbs, to provoke leaps of insulin levels. To not break your head with calculations, it's easier to get yourself a recipe book and follow the ingredient list as close as you can. Basing yourself on a healthy juicing cookbook, rather than the content of your fridge, will help you make best use of green leafy plants, citrus fruits, vegetables, rich in proteins, soluble fiber and sulfur. Secondly, do not rip your budget buying imported, exotic and out of season fruits and vegetables. This strikes not only the wallet but also the stomach. Local, organic and in season whole plants are a lot cheaper and, at the same, time a lot healthier.
The Effortless Juicing for Weight Loss includes:
Juicing 101-Learn why juicing is good for you, the health benefits of fruits and vegetables, plus practical tips on choosing a juicer.
Some Restorative Recipes-Take a sip of delicious fruit, vegetable, and green-based juices, and so much more.
Diet RIGHT-Get smart about which juicing plan works best for your lifestyle and weight loss goals.
Learn the ins and outs of detoxes, cleanses, and how to start juicing. With fresh new recipes and profiles on the revitalizing properties of key fruits and veggies, this book invites you to drink in good health.
Wait no more get your copy now and give yourself the best present and enjoy a better life