Dark Body Language + NPL Master + Dark psychology: 3 in 1: Find out how the politicians of the 3 world powers manipulate you just by moving your head (Paperback)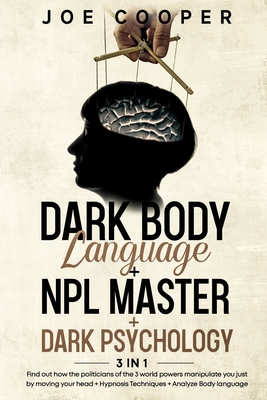 $24.99

Available for special order
Description
---
Yes, it is possible to influence people without saying a word - Here's How + 3 kindle for free
This collection includes 3 books:
-The Language of the Body
-Secrets of Dark Psychology
-How to Analyze People
Do you want to master Dark Psychology to gain confidence, influence people, read Body Language and prevail over others through NLP, Subliminal Persuasion, Mind Control and Hypnosis?
Did you know that Body Language affects 55% of the effectiveness of your communication?
By focusing only on the words people are saying to you, you are literally missing more than half the conversation. And you're missing out on the most interesting half.
The psyche is where our thoughts, ideas and emotions are located. Understanding that humans are governed by emotions will help you understand how powerful Dark Psychology can be.
Emotions actually influence our decisions and, as a result, determine our actions. It is very difficult to find people who are able to maintain a detached point of view about their lives and what happens to them.
For this reason, most of us are unable to analyze our surroundings without being influenced by our feelings.
You may, right now, without even knowing it, be victims of brainwashing, or dark seduction.
Wouldn't you like to know what signs to look out for, and what are the defense techniques, before it's too late?
This collection covers the following topics, among others:
A detailed introduction to Gestures, Positions, Facial Expressions and their significance
A comprehensive guide to the body language of Attraction, Flirt and Seduction
How Body Language can get you promoted or lose your job
Body Language in Different Cultures of the World
What is Dark Psychology
Differences between Manipulation and Persuasion
How to Expose Lies
Empathy: Is it Good?
The Dark Triad: (Machiavellianism, Narcissism, Psychopathy)
Neuro-Linguistic Programming
Hypnosis and how to use it
Brainwashing: is it just a myth?
How to manage Harmful Relationships
Even if you don't know anything about body language and neuro-linguistic programming, this collection can help you distinguish between a disinterested persuasion and an attempt at subliminal manipulation, leading you to understand whether your romantic relationship is healthy or, on the contrary, you have fallen into the trap of a dark seducer, providing you with the tools to regain your space while you have the chance.
Want to know more?
Wait no longer, click on "buy now" and start learning NOW