Green Valley (Mass Market)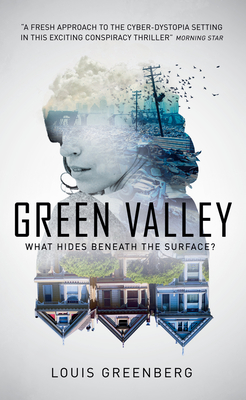 Description
---
WINNER OF THE FOREWORD INDIE BOOK OF THE YEAR AWARD
'Immersive, smart, eerily prescient and crackling with tension and atmosphere.' Sarah Lotz, author of Day Three and Day Four
Chilling near-future SF for fans of Black Mirror and True Detective.

When Lucie Sterling's niece is abducted, she knows it won't be easy to find answers. Stanton is no ordinary city: invasive digital technology has been banned, by public vote. No surveillance state, no shadowy companies holding databases of information on private citizens, no phones tracking their every move.

Only one place stays firmly anchored in the bad old ways, in a huge bunker across town: Green Valley, where the inhabitants have retreated into the comfort of full-time virtual reality--personae non gratae to the outside world. And it's inside Green Valley, beyond the ideal virtual world it presents, that Lucie will have to go to find her missing niece.
About the Author
---
Louis Greenberg is a renowned writer in his own right, having been shortlisted for the Commonwealth Writers Prize for his debut novel The Beggars' Signwriters (Umuzi, 2007), but is perhaps more known for his work with Sarah Lotz as one half of internationally bestselling S.L. Grey. Green Valley is his first solo novel to be published outside his native South Africa. He is currently based in England.
Praise For…
---
"Greenberg's talent to create a futuristic story that one could easily see becoming a reality is wonderful. For those who enjoy police procedures and close-to-home science fiction, this is an enjoyable way to spend one's evening and contemplate some of society's questions as to what type of technology is best for us."  -SciFiMoviePage

"Dark twists lurk around every corner, with tension building as Greenberg unfurls a world at once horrifying to imagine and too close to home. The familiar siren song of technological advancement floats from the pages, beckoning with promises of satiated longings, but the grass isn't always greener—especially in Green Valley.+ - Foreword magazine (Indie Book of the Year Award)

"Louis Greenberg's Green Valley asks what's more valuable: freedom or peace?" - BookPage

"Greenberg's creation of two societies living in opposite extremes plays with the themes of control and consequence. This is a vivid, if not appalling, world where the almighty illusion, whether it be living with technology or not, fails us even as it comforts. With several painfully accurate insights of how people work to find validation and how we justify our actions, Greenberg has woven an engrossing tale…Greenberg's talent to create a futuristic story that one could easily see becoming a reality is wonderful. For those who enjoy police procedures and close-to-home science fiction, this is an enjoyable way to spend one's evening and contemplate some of society's questions as to what type of technology is best for us." SciFiMoviePage

"Green Valley depicts a society that has voted to ban all forms of invasive digital technology for fear of becoming a surveillance state." Kirkus Reviews (Book of the Month) 

"The taut technological mystery keeps readers on edge to the very end." - Publishers Weekly