A History of Videogames: In 14 Consoles, 5 Computers, 2 Arcade Cabinets ...and an Ocarina of Time (Hardcover)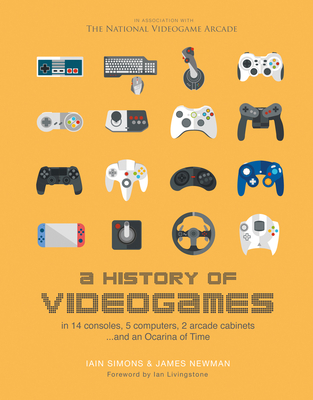 Description
---
The fascinating story of the creation and development of videogames encompasses hardware, software, concept, equipment, and more.
Now the curators of the award-winning National Videogame Arcade go on a journey through joysticks and microchips, Game Boys and guitars, exploring how videogames are made, played, and loved. This entertaining history ranges from The Age of Empires III Collectors' Edition and Barcode Battler to Packman, Nintendo, Tamagotchi, and Virtual Reality Headsets.
About the Author
---
Iain Simons is the Director of the National Videogame Arcade, which he cofounded in 2015. As well as leading curatorial and interpretive development at the NVA, he speaks and writes about videogame culture internationally for a wide variety of audiences and has written for both the popular and academic press, as well as several books. James Newman is Professor of Digital Media at Bath Spa University. He is the author of numerous books on videogames and game culture, including Videogames, Playing with Videogames, 100 Videogames (with Iain Simons), and Teaching Videogames. James has written for the Independent and Edge, spoken about game culture on TV and radio (Front Row, BBC Radio 4; Games Britannia, BBC4), and has given public talks, lectures, and workshops at the Barbican, British Library, and MediaCity.