Never Sit in the Lobby: 57 Winning Sales Factors to Grow a Business and Build a Career Selling (Paperback)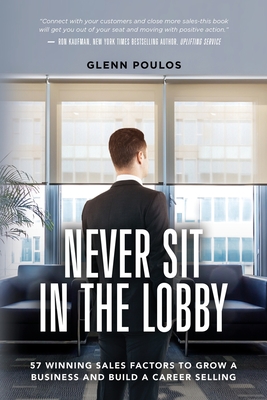 $14.99

Available in our warehouse. Ships in 2 - 3 Days
Description
---
Are you in sales and want to win more customers, make more money, and build a solid reputation that skyrockets your career? Success in selling doesn't always depend on doing everything right. Closing a deal often relies on remembering what not to do-like don't hate on your competition and never fax the facts.
After three decades in the office trenches, Glenn Poulos has figured out exactly what to do-and what to avoid-to get the deal.
Get results and stay on top of your sales game with the personal wisdom, expert storytelling, and effective business strategy found in Never Sit in the Lobby Inspired by real-life lessons that shaped Glenn's career, this guide provides 57 factors for navigating the interpersonal dynamics of selling and the art of negotiation to help you sidestep common costly mistakes-before you lose the sale.
You'll discover:
How to show them the WSP, a method to maximize you and your product's attractiveness in the eye of your customer.
The power of greed-based learning to help you effortlessly obtain the knowledge you need to sell your product.
The 10 types of challenging customers.
Secrets to make your emails and voice mails count, including example scripts that will start a digital dialogue rather than get screened.
Communication and public speaking skills that increase your influence, like active listening, confident body language, and rapport subtleties.
Showcase winning sales factors that close the deal Get Never Sit in the Lobby and better connect with new customers and build better relationships for the best opportunities that benefit both of you.