Cycling Australia (Paperback)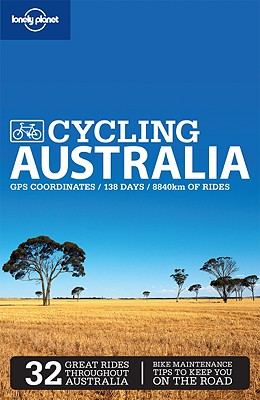 Description
---
"Lonely Planet: The world's leading travel guide publisher"
The coasts of the wide brown land are perfect for cycle touring, and we've chosen the best rides for every interest and ability level. It's a continent's worth of great cycling experiences - from the wildernesses and superb coastal scenery of Tasmania, to the historic sites and gourmet highlights of Victoria, and World Heritage rainforests in Queensland.
Whether you want a short ride through a cool eucalypt forest or a wild 10-day outing through the country's most dramatic coastline, this guide gives you the best of Australia on two wheels.
28 great rides throughout Australia
Route descriptions, map and cue sheets for each ride
Comprehensive listings for sleeping, eating and facilities along the way
Everything you need to know to get prepared
Bike maintenance tips to keep you on the road
Lonely Planet gets you to the heart of a place. Our job is to make amazing travel experiences happen. We visit the places we write about each and every edition. We never take freebies for positive coverage, so you can always rely on us to tell it like it is.
Authors: Written and researched by Lonely Planet, Andrew Bain, and Ethan Gelber.
About Lonely Planet: Started in 1973, Lonely Planet has become the world's leading travel guide publisher with guidebooks to every destination on the planet, as well as an award-winning website, a suite of mobile and digital travel products, and a dedicated traveller community. Lonely Planet's mission is to enable curious travellers to experience the world and to truly get to the heart of the places they find themselves in.
"TripAdvisor Travelers' Choice Awards 2012 and 2013 winner in Favorite Travel Guide category"
"'Lonely Planet guides are, quite simply, like no other.' - New York Times"
"'Lonely Planet. It's on everyone's bookshelves; it's in every traveller's hands. It's on mobile phones. It's on the Internet. It's everywhere, and it's telling entire generations of people how to travel the world.' - Fairfax Media (Australia)