The Investors Guide to Growing Wealth in Self Storage: The Step-By-Step Playbook for Turning a Real Estate Asset Into a Thriving Self Storage Business (Paperback)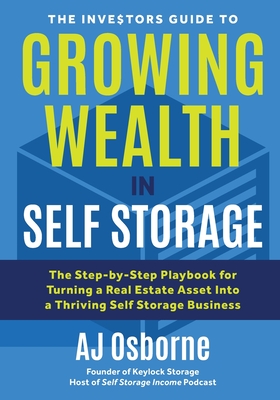 $19.95
Available in our warehouse. Ships in 2 - 3 Days
Description
---
The Essential Playbook to Earning a Lifetime of Income Through Self Storage Over the past decade in AJ Osborne's self storage investing career, he's built a portfolio of over $100 million in self storage investments with no outside capital or management. In this step-by-step playbook, you will discover how to identify investment opportunities, allocate capital, and leverage management expertise to turn a mom and pop real estate asset into a thriving income-producing business. Master the principles of self storage investing by learning from someone who's done it before. The business of self storage has evolved over the years. What started as a mom and pop business in the 70s and 80s has become a truly institutional asset class with value-add and management opportunities not found in any other real estate investments. By viewing self storage as not only a real estate asset but a consumer-oriented retail business, incredible opportunities are available to those who understand and implement the framework laid out within this book. "AJ's ability to dissect and break down complex business principles and overlay them into a remarkably powerful investing vehicle like self storage provides an entirely new perspective on an age-old industry, and lights the way for new investors interested in self storage."-Roc Pilon, Founder/CEO, Gymreapers "AJ Osborne is one of the most legit, successful real estate investors I've ever had the privilege of knowing. He's one of the people I trust more than anybody. AJ is the real deal."-Brandon Turner, host of the BiggerPockets podcast AJ Osborne is an entrepreneur and investor. He owns and manages a self storage portfolio of over $100M in assets. AJ is a national speaker on investing in, buying, and managing self storage facilities, wealth, financial freedom, and he actively manages his facilities. In addition to buying and turning around many existing facilities, he has developed self storage from the ground up, expanded existing facilities, and converted a failed Super Kmart into a storage facility. He has additional development projects ongoing across the United States.
AJ specializes in buying and turning around underperforming facilities with a value-add strategy. He has created a management company to run his facilities and focuses on growing his portfolio. He is a leader in the industry with a focus on technology and self storage automation. He built one of his largest facilities with full automation technology.
He is the owner and host of the self storage industry's largest self storage podcast, Self Storage Income.