How to Be a Vodka Snob (Hardcover)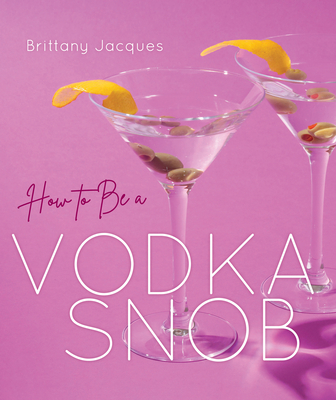 Description
---
Do you know your Moscow Mule from your White Russian? Your Stoli from your Belvedere? Micron filtering from charcoal filtering? No matter how you take your vodka, it is time to embrace your inner vodka snob.

How to Be a Vodka Snob is the perfect read for drinking novices as well as connoisseurs, beginning with vodka's humble history as a medicinal liquor and accompanying it on its rise to stardom with high-end vodka appreciators and mixologists. Pairing fascinating stories, tidbits, and recipes with a step-by-step guide to becoming a vodka snob, Brittany Jacques offers a beginner's guide to proper glassware, equipment needed for the home bar, and the all-important vodka lingo. Ever wanted to order a filthy martini, stirred, extra wet? How to Be a Vodka Snob is the perfect book for you.

How to be a Vodka Snob features more than 50 recipes with everything from James Bond's favorite Martini to Dwight's Beets Over Rocks from The Office, as well as accompanying nibbles and side dishes. With Brittany Jacques as your guide, your journey to becoming a vodka snob starts here.
About the Author
---
Brittany Jacques is the nom de plume of a husband-and-wife team who are addicted to good food, great drinks, and college football season. Although both are native midwesterners, the duo hails from sunny (but often rainy) Florida. Vodka is their secret passion.