The Essential Air Fryer Cookbook for Beginners #2020: 5-Ingredient Affordable, Quick & Easy Budget Friendly Recipes - Fry, Bake, Grill & Roast Most Wa (Paperback)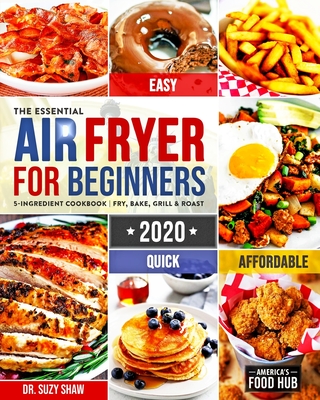 $7.85

Available for special order
Description
---
Enjoy affordable, quick & easy meals
In this #1 best seller, you'll learn how to cook 2020's most affordable, quick & easy 5-ingredient Air Fryer recipes on a budget. Each recipe includes...
5-ingredients or less: cut expensive and hard to find ingredients from your diet.
Affordable ingredients: save money cooking budget friendly recipes.
Easy to find ingredients: cook with ingredients easily found inside your home.
Nutritional information: keep track of your daily calories.
Servings: cook the right amount of food for your diet.
Cooking times: save time in the kitchen.
Highly rated recipes: enjoy only America's highest quality recipes.
Do you want to cook with your Air Fryer but don't know where to start? Quit worrying In this cookbook, you'll learn how to not only start, but love, your Air Fryer, which will guide you to amazing meals in the most affordable, quick & easy way possible. Along the way, you'll learn to cook only the highest quality 5-ingredient Air Fryer recipes, offering tons of scientifically proven health benefits, such as improving your appetite, cholesterol, blood pressure and reversing diabetes. Rest assured, you, the Air Fryer beginner, will get the healthy body you have always dreamt of
Air fried foods are a healthier alternative to traditionally fried foods. Inside, you'll discover a variety of sweet, savory, salty, crispy and craveable meals and a wonderful selection of traditional, modern and alternative 5-ingredient or less recipes to suit any taste. Just some of America's most popular Air Fryer for beginners recipes included in this cookbook are...
Cristy's Pancakes
Dunky Doughnuts

Poppin' Pop Corn Chicken

Southern Fried Chicken

Betty's Baked Chicken

Chicken Breasts & Spiced Tomatoes

Juicy Mexican Pork Chops

Beef Tenderloin & Peppercorn Crust

Mini Pepper Poppers

Bacon-Wrapped Jalapeno Popper

Cheesy Bacon Bread

Low-Carb Pizza Crust

Bacon-Wrapped Onion Rings

Mozzarella Sticks

Beef Jerky

Smoked BBQ Toasted Almonds

Bacon-Wrapped Brie

Mighty Meatballs

Crust-less Meaty Pizza

French Fries

Peanut Butter Cookies

Chocolate-Covered Maple Bacon

Bacon Cookies

Vegan & Vegetarian Recipes
Pick up your copy today and start cooking amazing Air Fryer recipes that cater for the diverse needs of you and your family, allowing you, the Air Fryer beginner, to save time, money and stress in the kitchen.
BONUS

Click the BUY NOW or Add to Cart button to start your new Air Fryer lifestyle