Five-Star Trails: Tucson: 38 Spectacular Hikes Around the Old Pueblo (Paperback)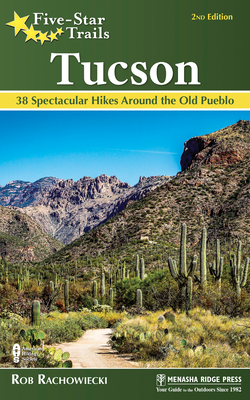 $17.95

Available in our warehouse. Ships in 2 - 3 Days
Description
---
Explore the Best Trails in Tucson, Arizona
Encircled by mountains, blessed with awe-inspiring desert scenery, and flanked to its east and west by Saguaro National Park, Tucson is an absolute hiker's nirvana. Hundreds of trails provide endless opportunities to explore. With the expert guidance of local author Rob Rachowiecki, you'll experience 38 five-star hiking trails, for all levels and interests, divided into six distinct areas in and around the city.
Bag a peak, or take a dip in a swimming hole. Immerse yourself in the region's American Indian history, or wander among towering rock formations. With ratings for scenery, difficulty, trail condition, solitude, and accessibility for children, you can find your perfect outings with just a glance. GPS-based trail maps, elevation profiles, and detailed directions to trailheads help to ensure that you always know where you are and where to go. Insights into the history, flora, and fauna of the routes entertain and educate while you are out on the trails.
Save time and make the most of your hiking adventures. Experience the best of Tucson's breathtaking scenery, varied terrain, and amazing wildlife. Lace up, grab your pack, and hit the trail.
About the Author
---
Rob Rachowiecki was raised in London and climbed his first mountain by accident, while on a school biology field course in Scotland. After a day of dissecting newts, he walked to the top of a windswept hill behind the outdoor studies center, looked around at miles of startling wilderness, and had an "I'm the king of the world!" revelation. Rob crossed the pond in 1974, planning on traveling around the world but ending up living and traveling throughout the Americas, from Alaska to Argentina. He has authored hiking and climbing guides to Central America and the Central Andes, as well as travel guides to Peru, Ecuador, Costa Rica, and the American Southwest for publishers ranging from Lonely Planet to National Geographic. He has been an active member of the Society of American Travel Writers since 1997. From 1983 to 2008, Rob worked as an adventure-travel guide, leading treks in the Andes and adventures on the Amazon. Since 1990 he has lived in Tucson, where he earned a master's degree at the University of Arizona and where he enjoys the area's varied ethnic restaurants, theatres, and outdoor music festivals. He is often found hiking the many desert, canyon, and mountain trails surrounding Tucson, following the seasonal changes, and usually doing a spot of bird-watching, as Brits are wont to do. After earning a respiratory therapy degree in 2006, Rob worked three days a week in local rural community hospitals until he retired in 2016. Now he travels the world, often accompanied by his partner, Audrey. His wanderlust has led to a four-month backpacking trip to Southeast Asia, visits to the lesser-known countries of Europe, and several adventures in various African countries. To avoid baggage fees, he wears hiking boots on international flights.