Moon San Miguel de Allende: Including Guanajuato & Querétaro (Moon Handbooks) (Paperback)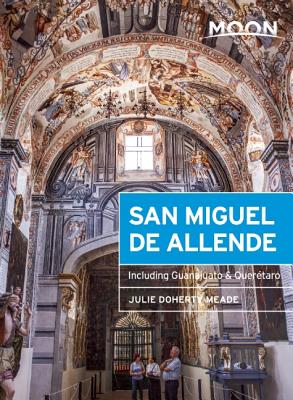 Description
---
Moon Travel Guides: Your World, Your Way

San Miguel's baroque architecture and local flavors will charm anyone who walk its cobblestone streets. Immerse yourself with Moon San Miguel de Allende.
Strategic itineraries, from a week touring the best of San Miguel to three days diving into the art and architecture or food and culture of the region
Activities and ideas for every traveler: Admire colonial architecture, contemporary art galleries, and traditional craft markets. Find the best places to soak in a hot spring, sample mezcal, and snack on gorditas. Tour the Franciscan missions of the Sierra Gorda, or listen to the mariachis serenade diners on the sidewalks. Learn about the history of Mexico's independence and cheer on the colorful parades that accompany local religious festivals, or taste/sample handmade tamales before it's siesta time
Insider advice from local expert Julie Doherty Meade, who shares the real vida mexicana
Detailed maps and directions for exploring on your own
Full-color with vibrant, helpful photos
Background information on the landscape, culture, history, and individual neighborhoods
Essential insight for travelers on health and safety, transportation, and accommodations, as well as a handy Spanish phrasebook, packaged in a book light enough to fit in your day pack
In-depth coverage of San Miguel de Allende and vicinity, Guanajuato, and Querétaro
With Moon San Miguel de Allende's practical tips, myriad activities, and an insider's view on the best things to do and see, you can plan your trip your way.
Hoping for más Mexico? Check out
Moon Cancún & Cozumel, Moon Los Cabos,
or
Moon Mexico City.
About the Author
---
Julie Doherty Meade grew up in the San Francisco Bay Area and spent her childhood hiking, camping, and traveling throughout the Golden State. After graduating from Stanford University, she took her first trip to Mexico, where she was immediately drawn to the country's warm people and fascinating culture. The following year, Julie returned to Mexico and decided to extend her stay indefinitely.

For almost ten years, Julie lived, worked, and traveled throughout Mexico, perfecting her Spanish and learning to distinguish between the flavors of different chili peppers. She saw Zapatista leader Subcomandante Marcos speak to a crowd in San Cristóbal de las Casas, scaled pyramids in the southern state of Oaxaca, and taught English to five-year-olds in Mexico City, before settling down in San Miguel de Allende. During her years in San Miguel, Julie became intimately acquainted with the regions multicultural community, lively local art scene, and vivid history. In the meantime, she supported her nomadic lifestyle by working as a freelance writer, translator, artist, and graphic designer for various companies in Mexico and the United States.

Today, Julie lives in Brooklyn with her husband, Arturo, her son, Mariano, and her chihuahua, Tequila. She spends a good deal of her free time trying to replicate traditional Mexican recipes in her tiny urban kitchen. She is also the author of Moon Mexico City, Moon Living Abroad in Mexico, and Moon MapGuide New York City.