Medicare for You: A Smart Person's Guide (Paperback)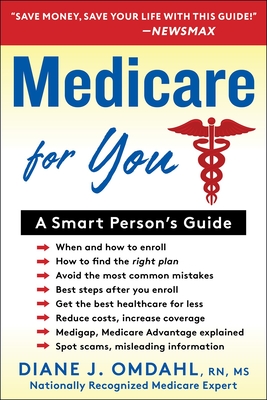 $24.99

Available in our warehouse. Ships in 2 - 3 Days
Description
---
"The decisions you make when you sign up for Medicare can impact your costs -- and your quality of care -- for the rest of your life. No one gives better advice about Medicare than Diane Omdahl. " -- Terry Savage, Author of The Savage Truth on Money and Nationally Syndicated Financial Columnist
Get the most out of Medicare. Get your maximum earned benefits for yourself and your family.
Every day, over 10,000 Americans will become eligible for Medicare, but most of us don't even know the basics. When do I enroll? What does it cover? Do I need Part B? You could watch the commercials or reply to direct mail. You could ask your best friend. Or you can take charge of these very important decisions and READ THIS BOOK
Medicare expert Diane J. Omdahl will take you through all the steps to making the right decisions at the right time. Avoid costly mistakes and scams and ensure that Medicare works for you.
About the Author
---
Diane J. Omdahl, RN, MS is a true pioneer in the field of Medicare benefits. She is a registered nurse who launched her first company Beacon Health Corporation--a provider of Medicare-related education, training and tools for home health agencies, long-term care facilities and their employees--in the basement of her home and grew it into a multi-million-dollar company. Today, as the architect of i65--a software system providing step-by-step Medicare enrollment guidance--and President and co-founder of 65incorporated.com and i65.com, Omdahl uses her extensive experience to provide seniors, their families, and their professional advisors with unbiased, expert step-by-step Medicare enrollment guidance through fee-for-service consultations and online software. i65 gives people 65 and older, whether working or retired, the clear, correct, complete and credible information they need to make important Medicare decisions, and provides one-on-one consultations, unbiased online resources, and unique software for today's Baby Boomers and seniors.An experienced and highly-rated speaker, Omdahl has delivered more than 400 Medicare-related audio conferences, 200 educational sessions, and 100 in-depth two-day seminars, along with producing instructional videos and educational resources for home health aides, registered nurses, therapists and consumers alike; including presentations at Bob Veres' Insider Forum and NAPFA and LPL conferences, along with webinars for Certified Senior Advisors, Women's Financial Empowerment Network, and Resilient Advisor. And she has also worked with some of the nation's foremost corporations, like PBS and Macmillan Publishing, to provide their human resources staff, employees and retirees with expert, unbiased Medicare consultation and speaking services. She also served as a technical expert for the Centers for Medicare and Medicaid Services (CMS), the organization that runs the Medicare program.Omdahl is a retirement columnist for Forbes.com and has been featured in publications such as The Washington Post, The Wall Street Journal Market Watch, CBS MoneyWatch, Kiplinger, The Huffington Post, CNBC, American Journal of Nursing, Kitces, and more. Omdahl is the author of Using the Plan Finder: A Guide to Choosing a Medicare Advantage Plan, Beacon Guide to Medicare Service Delivery, Headstart to Quality Improvement in Homecare and Home Health Aide A to Z Pocket Reference. The author lives & works in the Milwaukee metro area.65incorporated.com