Moon Oaxaca (Moon Handbooks) (Paperback)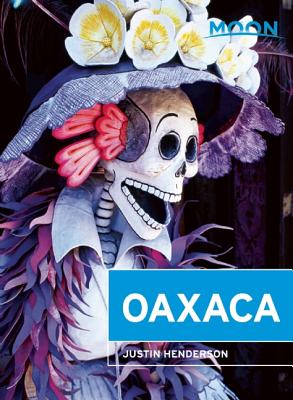 Description
---
This full-color guide includes vibrant photos and helpful maps.

Traveler and author Justin Henderson covers the best of Oaxaca, from bargaining at the Mercado Juárez to exploring the Castillo de Moctezuma Aztec pyramid. Henderson offers up unique trip strategies, including Best Beaches and Local Festivals & Native Markets, as well as experienced advice on where to go and what to see. Complete with information on sampling mezcal, Oaxaca's native liquor, and enjoying the vistas and fresh seafood of Puerto Ángel, Moon Oaxaca gives travelers the tools they need to create a more personal and memorable experience.
About the Author
---
A native of Los Angeles, Justin Henderson spent much of his childhood and young adulthood surfing the California beaches. After his graduation from California State University, Northridge, his career took him to several locations across the country. He worked as an architectural journalist in New York City, and later moved to Seattle, where he worked as a freelance travel and design writer. It was in Seattle that he took up windsurfing, reviving his long-dormant surfing skills and his passion for the ocean. Justin then moved with his wife and daughter to Sayulita, 30 miles north of Puerto Vallarta. In his years living there, Justin learned to love Mexico even more than he did as a child when his family would vacation on Lake Chapala every summer. He is currently working on the latest edition of Moon Puerto Vallarta as well as a memoir of his five years in Sayulita, tentatively called Paradise on the Five Year Plan.

Justin has written guidebooks on destinations ranging from Costa Rica to Los Angeles, and now Oaxaca, as well as six murder mysteries featuring a female travel writer and photographer which are set on Caribbean islands, in Costa Rica, and all over Mexico.

Justin and his family recently returned to Seattle, though he considers anywhere near the Pacific to be home. His first purchase there was a new wetsuit.