The Complete Cast-Iron Cookbook: A Tantalizing Collection of Over 240 Recipes for Your Cast-Iron Cookware (Hardcover)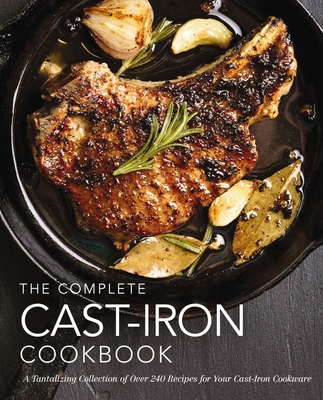 Description
---
With over 300 of the quintessential recipes for your cast-iron cookware, this cookbook covers it all!

From stovetop to oven to table—no cookware is quite as versatile (or as quintessential!) as tried-and-true cast-iron…and The Complete Cast-Iron Cookbook is sure to be your new favorite kitchen staple! Every recipe has been created with your cast-iron cookware in mind—and we've included gluten-free and vegetarian options for a number of recipes as well. Cast-iron is back—and chefs of all skill levels are learning just how easy it is to incorporate it into their kitchens...no non-stick coatings to worry about scratching or overheating, and oh, what a difference in the taste and texture of your end results (if you've ever had a fried egg from a non-stick pan, you KNOW what we mean)! Once you try any one of these amazing recipes with your favorite cast-iron pan, you'll find there's no need to ever put it away…because you're sure to be using it every day!
About the Author
---
Good ideas ripen with time. From seed to harvest, Cider Mill Press brings fine reading, information, and entertainment together between the covers of its creatively crafted books. Our Cider Mill bears fruit twice a year, publishing a new crop of titles each spring and fall. Cider Mill Press is an independent publisher of high-quality cookbooks, elegant wine and spirits projects, humorous parodies, classic children's books, and more. We're proud to publish many celebrated bestselling titles, including the #1 New York Times bestselling edition of The Night Before Christmas. Along with our children's imprint, Applesauce Press, we combine top-notch design, unique formats, and fresh content to create truly innovative gift books.