Funny Girl (Hardcover)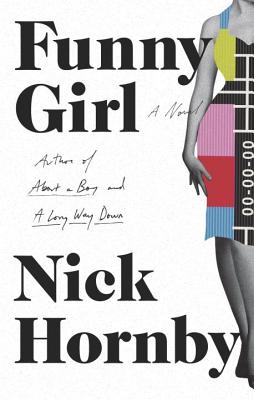 Staff Reviews
---
Nick Hornby's Funny Girl is a romp through 1960 London. Barbara Parker is an aspiring comedienne who thinks she can be the next Lucille Ball. Hornby tells her story while presenting the understandable obstacles: family and friends who wonder what she is thinking – she'll never make it; the crush of starting out in a dream without financial security; and the nagging fear that creeps in when you doubt for just a fleeting moment that maybe you won't succeed.
Fortunately, Hornby paints Barbara, who takes the stage name of Sophie Straw, as a strong, determined woman who has the will to conceive a dream and take it to the limit. Hornby's writing and quick jabs of humor are the first course of the story. The comedy writers Barbara/Sophie encounters, Tony and Bill, are the main course of the story. Their writing needs to hit the mark so Sophie can deliver it properly. They hit the mark. Without giving anything away, I will say that I appreciated Hornby portraying Sophie as a young woman starting out and carrying her story to her golden years. It was the perfect touch.
Funny Girl will not be my favorite Nick Hornby tale, and for that, there will be readers who think I'm crazy. There are classic elements of Nick Hornby – his humor that translates to the page well, his character development – but the descriptions of the 1960s didn't work for me. They seemed stiff and contrived. Some situations went on for pages and pages when he could have shortened them to a few pages. And honestly, Hornby could have come up with a more original title. BUT, whether she's Barbara or Sophie, Hornby's Funny Girl will capture you. But it will be, in my opinion, the writers – Tony and Bill – who are the real stars of Hornby's latest.
— From
Wendy's Easy Chair 3
Description
---
A brilliant novel from the bestselling author ofHigh Fidelity, About a Boy, andA Long Way Down.
Set in 1960's London, Funny Girlis a livelyaccount ofthe adventures of the intrepid young Sophie Straw as she navigates her transformation fromprovincial ingenue to television starlet amid a constellation of delightful characters. Insightful andhumorous, Nick Hornby's latest does what he does best: endears us to a cast of characters who are funny if flawed, and forces us to examine ourselves in the process.
About the Author
---
Nick Hornby is the author of seven internationally bestselling novels (Funny Girl, High Fidelity, About a Boy, How to be Good, A Long Way Down, SlamandJuliet, Naked)and severalworks of non-fictionincludingFever Pitch, SongbookandTen Years In The Tub. He has written screenplay adaptions of Lynn Barber s An Education, nominated for an Academy Award, Cheryl Strayed'sWildand Colm Toibin s Brooklyn. He lives in London."