The Tombs (Fargo Adventure) (Large Print / Paperback)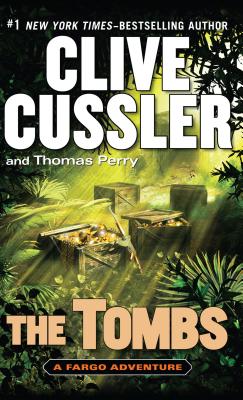 Description
---
Sam and Remi Fargo return in this astonishing new thriller from #1 "New York Times" bestselling author Clive Cussler--and embark on their most daring quest to date.
When an archeologist friend requests their help to excavate a top-secret historical site, the Fargos are intrigued. But they have no idea that their discoveries will set them on a hunt for a prize beyond all imagination.
The clues point to the hidden tomb of Attila the Hun, who was reportedly buried with a vast fortune of gold, jewels, and plunder: a bounty that has never been found.
As they follow a trail throughout Europe, it leads them not to one tomb, but five. The Fargos also find themselves pitted against a thieving group of treasure hunters, a cunning Russian businessman, and a ruthless Hungarian who claims direct descent from Attila himself--and will stop at nothing to achieve his destiny...
About the Author
---
Clive Cussler is the author or coauthor of more than fifty previous books in five bestselling series, including Dirk Pitt(R), NUMA(R) Files, "Oregon"(R) Files, Isaac Bell, and Fargo. His most recent "New York Times "bestselling novels are "The Race," "The Storm," and "Poseidon's Arrow." His nonfiction works include "Built for Adventure: The Classic Automobiles of Clive Cussler and Dirk Pitt," plus "The Sea Hunters," and "The Sea Hunters II"; the latter two describe the true adventures of the real NUMA(R), which, led by Cussler, searches for lost ships of historic significance. With his crew of volunteers, Cussler has discovered more than sixty ships, including the long-lost Confederate submarine Hunley. He lives in Arizona.

Thomas Perry is the highly acclaimed author of twenty novels, including the Edgar Award(R)-winning "The Butcher's Boy" and the seven novels in the popular Jane Whitefield series, most recently "Poison Flower." He has also been a writer and/or producer for several television series, including "Simon & Simon," "21 Jump Street," and "Star Trek: The Next Generation." He lives in Southern California.