Stones of Aran: Labyrinth (Paperback)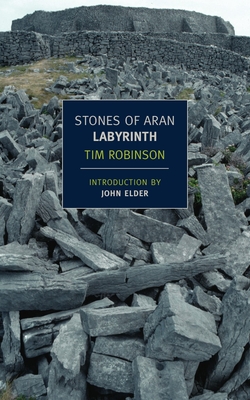 $29.95

Available in our warehouse. Ships in 2 - 3 Days
Description
---
Tim Robinson's Stones of Aran is one of the most striking and original literary undertakings of our time. Robinson's ambition is to find out both what it is to know a landscape, know it as extensively and intimately as possible, and what it takes to make that knowledge, the sense of the landscape itself, come alive in writing. It is a project that draws on the legacies of Thoreau and Joyce, to which Robinson brings his own polymathic gifts as cartographer, mathematician, historian, and, above all, shaper of words.

In Pilgrimage Robinson walked the entire coast of Airann, largest of the Aran islands. In Labyrinth he turns in to the island's interior. These two books—parts of an inseparable whole that can, for all that, be read quite separately from each other—constitute a vast polyphonic composition, at once encyclopedic and lyrical, scientific and surprisingly personal. Exploring the illimitable complexity and bounty contained in the seemingly limited confines of a single island, Robinson invites us to look without and within and to see the wonder of the world.
About the Author
---
Tim Robinson was born in 1935 and brought up in Yorkshire, England. He studied mathematics at Cambridge and worked as a teacher and artist in Istanbul, Vienna, and London. In 1972 he moved to the Aran Islands to write and make maps. He now lives in Roundstone, County Galway. Among his books are Setting Foot on the Shores of Connemara and Other Writings (1996), My Time in Space (2001), Tales and Imaginings (2002), and two volumes of a projected trilogy, Connemara: Listening to the Wind (2006) and Connemara: The Last Pool of Darkness (2008). His Folding Landscape Project, which won a major European Conservation Award in 1987, has produced radically new maps of the Burren in County Clare, the Aran Islands, and Connemara.

John Elder lives in Vermont, where he teaches at Middlebury College and operates a sugar bush with his family. His books include Reading the Mountains of Home and The Frog Run.
Praise For…
---
"I do not believe there is another book in the world like it. . . . Robinson has achieved the impossible: by taking a geographical reality, describing it so meticulously, and embedding it in a past of folktales, legends, and history he has thwarted the transience of at least one small part of the globe."
—Cees Nooteboom

"One of the most sustained, intensive, and imaginative studies of a landscape that has ever been carried out. . . . As with all great landscape works, it is at once territorially specific and utterly mythic."
—Robert Macfarlane

"A loving anatomy of the largest of the Aran Islands off the West Coast of Ireland, in which the point where nature and culture meet in the island is observed with great beauty and precision." –Colm Toibin

"Tim Robinson's maps and books honor the landscapes they describe. As invitations, they irresistibly beckon the archeologist, botanist, geologist, bird-watcher, folklorist, student of the Irish language, or just plain tourist." –Chet Raymo.

"Stones of Aran: Pilgrimage and Labyrinth...is a necessity for all visitors and walkers." --Guardian

"Tim Robinson is an artist and mapmaker and has spent years charting the coasts of Connemara and the Burren. I came across his books in a Galway shop. In typical Irish fashion, somebody told me where he lived and that I should call by. So I did, met Robinson, bought one of his black-and-white maps and went off walking. His remarkable book is a fascinating meditation on the geology, spatial and mythical life of the islands and makes you feel that Robinson has personally met and considered every boulder in the plane." –Gwyneth Lewis, The Independent

"The Aran Islands off the west coast of Ireland have captured the imagination of many artists and writers, from Robert Flaherty's film Man of Aran to two dazzling books by historian, geographer and map-maker Tim Robinson–Stones of Aran: Pilgrimage and Stones of Aran: Labyrinth. With their attention to everything from underlying geology to botanical minutiae and the long-forgotten genesis of place names, these books are profound investigations of the inhabited landscape." –Architects' Journal

"An exquisitely detailed portrait of a special landscape, this is a gem-like addition to the travel genre." –Publishers Weekly

"Robinson takes the reader on a meditative walking tour of Aran...[he] seeks the essence of an increasingly distant Celtic past...like a visitor peering through the warped and colored glass of an ancient church window." –Los Angeles Times

"A kind of travel writing The New Yorker sometimes sponsors: a virtuosity of gratuitous fact-gathering, a penitential recording of minutiae, a recitation of information as if it were prayer." –New York Times

"Looked upon with a tactful, eager, strategic care that is as tender in its address as an admission of love...Robinson's Aran will, inevitably, become part of the general myth. It is a wonderful achievement." –Seamus Deane, London Review of Books

"The best book ever written by an Englishman about Ireland." –Independent

"One of the most original, revelatory and exhilarating works of literature ever produced in Ireland." –Irish Times

"Rapt, encyclopedic volumes...Robinson has done for the west of Ireland what Ruskin did for Venice, Proust for the voids and vasts of time." –Telegraph

"Stones of Aran seems to me one of the most significant pieces of prose, from a literary point of view, written in Ireland in the past quarter-century." –J.C.C. Mays, Poetry Ireland

"A rich and a great book. Robinson has evoked the spirit of the place in its starkness, beauty, and endurance." –George Mackay Brown, The Tablet

"Climate and location, flora and fauna, culture, myth and legend, people, and over it all, the veneer of language and place name...Tim Robinson achieves this ultimate map in Stones of Aran" –New Scientist

"Stones of Aran warms cold geology into fervent life. Robinson's chosen form is wholly irresistible." –Observer

"One of the most interesting and important books produced in Ireland in the twentieth century. In prose as layered and rich as the area he explores, Robinson deals with space in the way Proust deals with time." –Sean Dunne

"Robinson set out to record in diary form the geology and history, the language and placenames and folklore of the island." –The Washington Post

"Robinson's language is fastidiously and finely wrought. It draws the reader on, hypnotically, not merely into Aran's fantastic interface of rock and sea, but into a revelation of total environment." –Michel Viney, The Irish Times