Monkey Business: The Lives and Legends of the Marx Brothers (The Louvish Hollywood Biographies) (Paperback)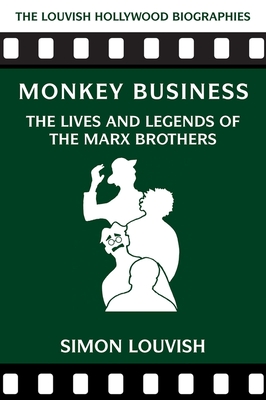 $20.00

Available in our warehouse. Ships in 2 - 3 Days
Description
---
This is the first full and properly researched biography of all five Marx Brothers—Chico, Harpo, Groucho, Gummo and Zeppo. First and foremost, this is the saga of a family whose theatrical roots stretch back to mid-19th century Germany. From Groucho Marx's first warblings with the singing Leroy Trio, this book brings to life the vanished world of America's wild and boisterous variety circuits, leading to the Marx Brothers' Broadway successes and their alliance with New York's theatrical lions, George S. Kaufman and the "Algonquin Round Table." Never-before-published scripts, well-minted Marxian dialogue, and much madness and mayhem feature in this tale of the Brothers' battles with Hollywood, their films, their loves and marriages, and the story of the forgotten brother Gummo.
About the Author
---
Simon Louvish is a biographer of comedians and author of satirical and outrageous fiction. He is a film screenwriter and teaches film at the London Film School. His film biographies include, Man on the Flying Trapeze: The Story of W. C. Fields, Monkey Business: The Lives and Legends of the Marx Brothers, Stan and Ollie: The Roots of Comedy, Keystone: The Life and Clowns of Mack Sennet, Cecil B. DeMille: A Life in Art, and Chaplin.
Praise For…
---
"Told with tremendous style and sparkle, Louvish's composite portrait of the Marx Brothers offers an indispensable overview of the actors' saga. Decked out with photographs and sprinkled with excerpts from reviews, interviews, memoirs, film dialogue and hitherto unpublished skits and scripts, this biography captures the sheer exuberance of the foursome as they conquered vaudeville, Broadway and Hollywood. Louvish gives equal billing to all the brothersAJulius (Groucho), Leonard (Chico), Arthur (Harpo), Herbert (Zeppo), plus Milton (Gummo), who left the act to become a Hollywood agent and vibrantly re-creates a supporting cast of characters that includes George Kaufman, Irving Berlin, Irving Thalberg, S.J. Perelman and Margaret Dumont ' His fresh research clears up all manner of myths, embellishments and omissions in previous biographies and in the brothers' autobiographies. In this invigorating reappraisal, the Marx Brothers, more than ??Minnie and Sam's boys who never grew up,' are timeless satirists of pretension, folly, privilege and snobbery, in the tradition of Cervantes, Rabelais and Mark Twain. The ??Four Horsemen of the Apoplexy,' they embody an authentic acceptance of life's absurdity as well as a desperate need to leave one's mark.??

Louvish does a solid job of separating fact from fiction and includes a family tree and a discussion of the FBI's file on the group.?Monkey Business?includes generous excerpts of classic Marx Brothers film dialog. Recommended

Mr. Louvish has written a well-researched and playful version of this hysterical history.

[The Marx Brothers are] well captured in Simon Louvish's zippy group portrait,?Monkey Business, which ferrets out the facts behind the brothers' often murky accounts of their lives with a care that never interferes with the fun.