Securities Regulation: Selected Statutes, Rules, and Froms, 2022 (Supplements) (Paperback)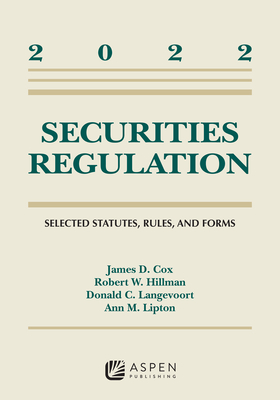 $70.00

Available in our warehouse. Ships in 2 - 3 Days
Description
---
Designed specifically for the securities regulation course, this statutory supplement contains all the relevant statutes, rules, and forms needed--in a remarkably concise and uncluttered format. A highly effective teaching tool, it is the ideal complement to any casebook for securities regulation, including but not exclusive to the authors' own Securities Regulation: Cases and Materials.
New to the 2022 Edition:
Securities Exchange Act of 1934, Section 21: Investigations; Injunctions and Prosecution of Offenses, updated to authorize the Securities Exchange Commission (SEC) to seek disgorgement of unjust enrichment received as the result of certain violations of the Act, rules and regulations thereunder, and SEC cease-and-desist orders.
Schedule 14A, Information Required in Proxy Statement pursuant to Section 14(a) of the Securities Exchange Act of 1934, updated to require the use of universal proxy cards in contested elections that include all director nominees up for election at shareholder meetings, as well as to modernize filing fee disclosures and payment methods.
Latest updates to statutes, rules, regulations, and forms.