A Giant Win: Inside the New York Giants' Historic Upset over the New England Patriots in Super Bowl XLII (Hardcover)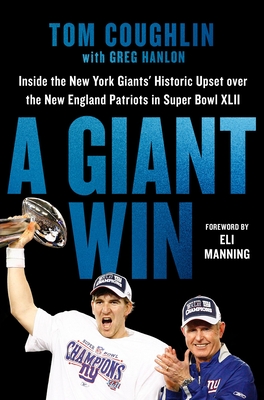 $30.00

Available in our warehouse. Ships in 2 - 3 Days
Description
---
Legendary Giants coach Tom Coughlin takes readers inside his coaching masterpiece: Super Bowl XLII when Eli Manning and the underdog Giants beat the undefeated, 18-0 Patriots of Tom Brady and Bill Belichick.

Super Bowl XLII was the greatest upset in NFL history. In A GIANT WIN, Coach Tom Coughlin recounts the strategies and people that made it possible.

Coach Coughlin reveals the intricacies of the game, revealing details only a coach would know. He also details, more than ever before, his relationships with some of the greatest, most iconic players of those Giants teams, like Eli Manning and Michael Strahan.

A GIANT WIN also provides a frame for Coach Coughlin to discuss his life in football—including his years with the Giants as an assistant coach in the late 1980s and 1990, when he helped win a Super Bowl working under Hall of Fame Head Coach Bill Parcells and alongside the coach he'd oppose in Super Bowl XLII: Bill Belichick.

A GIANT WIN is a self-portrait of one of football history's most successful coaches during his signature game.
About the Author
---
Tom Coughlin is a former National Football League head coach who was part of three New York Giants Super Bowl winning teams, twice as head coach. He won his first Super Bowl while an assistant to legendary coach Bill Parcells in 1990. In 2004, he joined the New York Giants for 12 seasons as head coach, leading the Giants to victory in Super Bowl XLII and Super Bowl XLVI, both times beating the New England Patriots. Coughlin ranks as the 14th winningest coach in NFL history with an overall record of 170 wins.

Greg Hanlon is an editor at People magazine who has written for Sports Illustrated, The New York Times and Slate. His writing has been anthologized in The Best American Sports Writing. He was a 2015 finalist in national reporting for The Livingston Awards for Young Journalists. He is the co-author of Watch My Smoke: The Eric Dickerson Story.
Praise For…
---
"In A GIANT WIN, one of football history's greatest coaches takes the reader inside football history's greatest game. Nobody thought we could beat the Patriots, but Coach Coughlin made us believe. In this book, he vividly recalls all the plays, players and personalities that helped David "stomp out" Goliath. Coach Coughlin is on the Mount Rushmore of all-time New York sports coaches. In A GIANT WIN, he opens up about his time in New York, sharing unprecedented insight into his relationships with his players, including myself. As a coach, he should be in the Hall of Fame. But he's an even better man."
 —Michael Strahan

"There's so much in this book that I didn't know—and I covered this game and these teams a lot that season. One of the reasons: Tom Coughlin teams did not leak. Did you know David Tyree basically begged Coughlin to stay a Giant when drugs nearly derailed his career and life? Coughlin, who can read bullcrap, kept Tyree. Without Tyree, the greatest Super Bowl upset ever does not happen. Without Tyree, 62 Y Sail Union never makes history. Coughlin the coach was masterful that year, and Coughlin the storyteller is just as good in A GIANT WIN." 
 —Peter King

"Super Bowl XLII was one of the best nights of my life. I don't know what I enjoyed more: Watching the Giants raise the Lombardi Trophy, or watching them put Tom Brady on his ass over and over. Reading A GIANT WIN, I felt like I was reliving that night. Like the best sports books, A GIANT WIN puts you right into the action."—Tracy Morgan

"You don't have to be a Giants fan or even a football lover to appreciate Tom Coughlin's journey to NFL greatness. Coughlin provides principles for not just succeeding in sports, but succeeding in life! It's a wonderful example of how with hard work, dreams can come true, as told by one of the finest men in football. All that said, as a football fan, what a thrill to go behind the curtain of a championship season!"
 —Suzy Kolber

"Super Bowl XLII was a coaching masterpiece. In A GIANT WIN, Tom Coughlin takes the reader inside the gameplan, showing that he's a Hall of Fame author as well as a Hall of Fame coach. I coached against Tom in the NFC East for many years, and you knew his teams were always going to be well-prepared and tough, both physically and mentally. It was that mindset that helped them pull off one of the sport's greatest upsets. A GIANT WIN masterfully tells that story. It's a must-read for anyone who has ever rooted for the underdog."
 —Andy Reid

"A GIANT WIN is one of the best books I've read about what it's like to coach in a big game. The preparation, anticipation, the roller-coaster of emotions — it's all here. The narrative powerfully conveys how much Coach Coughlin cares about his players as human beings. It's a side of himself he doesn't always show, but one I've seen through his extensive charity work. A GIANT WIN is the most intimate look ever into a Hall of Fame coach, and a person I'm privileged to call my friend."
 —Jill Ellis

"Super Bowl XLII put a premiere sports franchise back on top, and A GIANT WIN tells the inside story of how it happened through the eyes of a coach. That game, and really the whole season, illustrates who Tom Coughlin is. He embraces the struggle. He never gives up. In A GIANT WIN, Coach Coughlin opens up like never before." 
 —Phil Simms

"What has always stood out to me was Tom Coughlin's mastery of bringing out the very best in people. A GIANT WIN is a fascinating look behind the curtain at the accomplishments of a man who was always guided by principle and spent his entire career on the 'high road.'"—Al Michaels

"Throughout, Coughlin praises his players and emphasizes the importance of humility […] Football fans and Giants devotees will find plenty to celebrate."—Publisher's Weekly

"A key figure serves up an in-depth analysis of an underdog Super Bowl victory […] Through the lens of that storied game, Coughlin tells his own story as a player and coach, offers character sketches of his players […] and delivers a deft portrait of the pro game and the thinking that goes into every play as well as the many back-office figures who contribute to success on the field. For fans, though, the best parts of the book are the author's nimble descriptions of small but important moments and figures in the game."—Kirkus Review

"A GIANT WIN has the potential to succeed as a gridiron page-turner...Coughlin has delivered far more than the norm: incisive analysis and description of the game itself, empathetic attention to human nature, and a moving comprehension of the tragic nature of life. It's not only at the Super Bowl, you realize by the final pages, that the clock inexorably ticks down to zero."
 —The Atlantic