Trapped! (Framed! #3) (Paperback)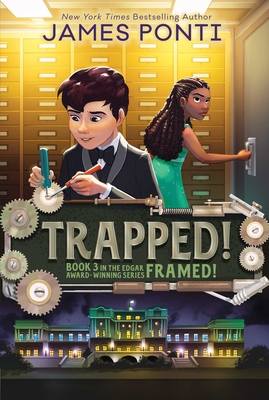 Other Books in Series
This is book number 3 in the Framed! series.
Description
---
"A top-shelf test of courage, friendship, and ingenuity." —Kirkus Reviews (starred review)

Florian Bates—the only kid on the FBI Director's speed dial and several international criminals' most wanted lists—must save his friend from being framed for a crime he didn't commit in this hilarious third novel in the Framed! series.

Middle school is hard. Solving cases for the FBI is even harder. Doing both at the same time, well that's just crazy. But that doesn't stop Florian Bates! Along with his best friend, and Watson to his Sherlock, Margaret, Florian's making the case that kids can do anything.

When Florian and Margaret's FBI supervisor, Marcus Rivers, is accused of a crime, it's up to this mystery solving duo to jump into action and clear his name, because Marcus is more than their boss—he's family.

The case involves one of Marcus's first investigations for the FBI and a Russian spy ring. However, when the spy they are chasing learns what they're up to, the tables are turned, and Marcus finds himself implicated in a variety of crimes, including theft, corruption, and espionage. For Florian and Margaret, it just got personal. They're going to catch the spy and clear Marcus's name…even if they have to break into (and out of) the Library of Congress to do it.
About the Author
---
James Ponti was born in Italy, raised in Florida, and went to college in California. After receiving a degree in screenwriting from the USC Film School, he began a career writing and producing television shows for the likes of Nickelodeon, Disney Channel, PBS, Spike TV, History Channel, and Golf Channel. James loves writing, travel, and the Boston Red Sox. He lives with his family in Orlando, Florida.
Praise For…
---
"The pleasures of watching the young sherlocks once again deduce rings around the grown-ups (using a technique they call TOAST, for "Theory of All Small Things") are just as rich in this trilogy closer as they were in Volume 1. A top-shelf test of courage, friendship, and ingenuity."
— Kirkus Reviews, Starred review