The Range Eternal (Hardcover)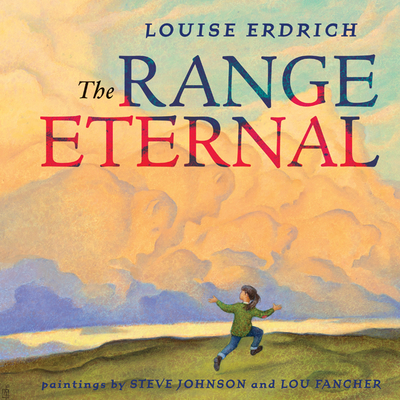 Description
---
The story of a girlhood lived in the glow of a woodstove from one of the country's most distinguished and beloved authors, now back in print

At the heart of a home in the Turtle Mountains sits a woodstove. It is where Mama makes her good soup, where she cooks a potato for warming hands on icy mornings, where she heats a stone for warming cold toes at night. It warms the winter nights and keeps Windigo, the ice monster, at bay. On the stove's blue enamel door are raised letters, The Range Eternal, and in the dancing flames through the window below, a child can see pictures: the range of the buffalo, the wolf and the bear, the eagles and herons and cranes: truly, the Range Eternal.

In these charmingly illustrated pages, Louise Erdrich tells a story of hearth and home, of memory and imagination, of childhood recaptured in the reflection of a shiny blue woodstove, of the warm heart of family. 
About the Author
---
Louise Erdrich is a member of the Turtle Mountain Band of Chippewa. Her books include Love Medicine, The Plague of Doves, The Round House, and LaRose.  Her books for children include The Birchbark House Series. Along with a spirited group of colleagues, Louise operates Birchbark Books, a small independent bookstore in Minneapolis. Her most recent novel, The Night Watchman, is based on the story of her grandfather, Patrick Gourneau, who loved his family and chopped a lot of wood for The Range Eternal.  
Steve Johnson and Lou Fancher have illustrated numerous books together. Among the most critically acclaimed are My Many Colored Days by Dr. Seuss and The Frog Prince, Continued by Jon Scieszka. 
Praise For…
---
"A great read aloud to build community and for family gatherings, sharing traditions and memories together."—Youth Services Book Review
"A gentle story told in poetic language (it's Louse Erdrich, after all), illustrated by beautiful, deep jewel-tone paintings, make this book a perfect bridge between picture books and early chapter books."—Pioneer Press
"A treasure for its warm-hearted writing and luminous artwork."—Bookology
"Erdrich's story is simple and eloquent, weaving tales and history through crystal-clear prose."—Star Tribune
"This would be a perfect mid-winter's read (even without little ones to listen)."—Lake Superior Magazine
"This substantial picture book narrative is graced by vivid, beautifully rendered details."—Cooperative Children's Book Center
"In this beautifully illustrated children's book, author Louise Erdrich tells a story of hearth and home, and of childhood recaptured in the reflection of a shiny blue woodstove."—Northern Wilds
"The theme expressed is sometimes, simpler is better. Humans take advantage of luxuries and forget that a simple life is sometimes the most valuable."—The Oneota Reading Journal
"A good book for grandparents who remember and kids who love to listen to their stories."—Ely Winter Times