Searching for Minnesota's Native Wildflowers: A Guide for Beginners, Botanists, and Everyone in Between (Hardcover)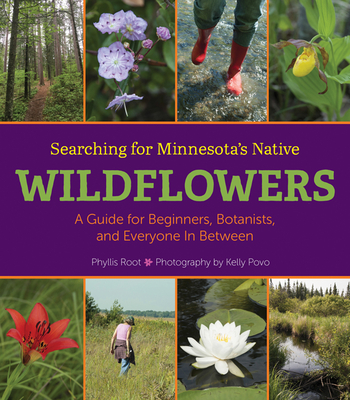 Description
---
A beautifully illustrated, family-friendly guide to Minnesota's native wildflowers and how to find them

Once prairie grasses and flowers bloomed for hundreds of miles in the western part of what we now call Minnesota. Once tiny orchids grew among the roots of giant old pines, and fleeting blossoms sheltered in the shade of great maple and oak forests. These flowers that grew here for hundreds of years, though harder to find now, are still there, and this book shows you how to discover them.
Searching for Minnesota's Native Wildflowers chronicles the ten years that Phyllis Root and Kelly Povo spent exploring Minnesota's woods, prairies, hillsides, lakes, and bogs for wildflowers, taking pictures and notes, gathering clues, mapping the way for fellow flower hunters. This book is a treasure trove of plant lore and information, the perfect companion for anyone who wants to find—or simply to find out more about—shooting stars and kitten tails, prairie smoke and Dutchman's breeches, blazing star and butterfly weed, and more native flowers than most Minnesotans imagine are blooming nearby.
Readers of Searching for Minnesota's Native Wildflowers will learn where to look for wildflowers and how to identify them, whether in the woods, wetlands, peatlands, or the prairie in spring, summer, or fall; around the state's 10,000 (or so) lakes; on the North Shore; or, especially, in Minnesota's many great state parks. Featuring helpful tips, exquisite photographs, and the story of their own search as your guide, Phyllis and Kelly place the waiting wonder of Minnesota's wildflowers within easy reach.
About the Author
---
Phyllis Root is the author of more than forty books for children, including Plant a Pocket of Prairie and One North Star (both winners of the John Burroughs Riverby Award for excellent natural history books for young readers) and Big Belching Bog, all published by University of Minnesota Press. 
Kelly Povo, a professional photographer for thirty years, has exhibited in galleries and art shows across the country. Her cards, gift books, and calendars have been sold internationally. She and Phyllis have collaborated on several books.
Praise For…
---
"While you are out in the fields and woods of Minnesota's state parks, you'll be able to find and identify wildflowers if you have this book in your backpack."—Pioneer Press
"An obvious labor of love from friends and fellow flower hunters Root and Povo, who spent 10 years scouring woods, prairies, hillsides, lakes and bogs to produce this bright, colorful guide."—Union Herald
"Organized into sections based on season and habitat, readers can turn to their relevant section and see photos and descriptions of what they might find based on their location."—Northfield News