The Calcium Connection: The Little-Known Enzyme at the Root of Your Cellular Health (Hardcover)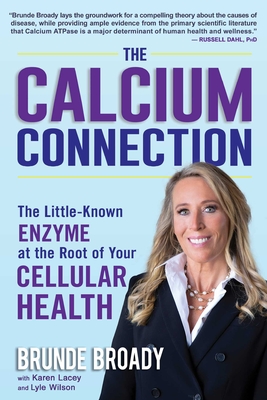 $24.99

Available in our warehouse. Ships in 2 - 3 Days
Description
---
Did you know that one single enzyme impacts your odds of contracting most deadly diseases and health conditions?

An enormous body of reputable research into this enzyme has been isolated, ignored, and misunderstood by medical experts. The importance of this enzyme simply cannot be overstated.

The Calcium Connection: The Little-Known Enzyme at the Root of Your Cellular Health delivers a clear explanation of this enzyme's function and outlines the steps you can take to gain optimal enzyme health. The accessible, information-packed format teaches you all about Calcium ATPase: how it works, what happens when it goes awry, and easy, practical methods to bring it back into balance and protect it—and your overall health. Whether you're a health enthusiast, environmentalist, parent, or just want to be better informed, this book will help you boost your health now and into the future.
 
Brunde Broady recounts her tireless quest to find a cure for her son Knute's compromised health since being whisked away and kept in ICU after birth. The medical establishment could only help manage his condition, but not diagnose or cure him. Doing her own research and documenting everything Knute ate and his reactions to certain foods, she came across two ubiquitous food additives. Diving deeper, she learned how Calcium ATPase, a fundamental regulator of intercellular calcium, is negatively impacted, not only by these additives, but by a torrent of other inhibitors.
 
Knute's health is a testament to Brunde's discoveries, and The Calcium Connection gives readers a front-row seat to understanding how to maintain optimized cellular health.
 
About the Author
---
When Brunde Broady's infant son experienced an onslaught of health issues that conventional medicine could neither define nor treat, she began her own research-based quest for answers. Over the course of ten years, she pulled together hundreds of threads from scientific journal articles and revealed the importance of the enzyme Calcium ATPase. Broady has a Yale MBA and has received patents in both the United States and China related to her work on Calcium ATPase. Her goal is to share her knowledge with as many people as possible to help them make educated health and lifestyle decisions.

Russell Dahl has co-authored over eighty scientific publications and is an inventor with over fifty patent applications. He is a former Professor of Neuroscience and Medicinal Chemistry and received his PhD in organic chemistry from the University of California, San Diego as a DuPont pharmaceuticals fellow and has additional training in molecular pharmacology from Stanford University. Russell is the CEO and scientific founder of Neurodon. Previously, he led all small molecule research at Celladon, where he was responsible for progressing a diverse small molecule pipeline into the clinic.

 
Praise For…
---
"In this book, Brunde Broady lays the groundwork for a compelling theory about the causes of disease, while providing ample evidence from the primary scientific literature that Calcium ATPase is a major determinant of human health and wellness."
—Russell Dahl, PhD

"The medical system was nearly powerless against the serious health problems Brunde Broady's son experienced from the very beginning. But this brilliant scientist and mother would not give up, and eventually found answers that not only helped her son tremendously but can help countless others, too. You may never have heard of Calcium ATPase, but as Brunde Broady found, it has an enormous influence on an astounding variety of health issues and could be the key many suffering people are looking for."
—John Robbins, bestselling author, and president of Food Revolution Network
 
"Brunde Broady has achieved a rare feat in health and wellness publications. She has written a book that is steeped in deep scientific research and is an absolute pleasure to read. As an integrative physician, I know proactive medicine is key. The information outlined in this book will supercharge your passion to make healthy choices and to live well without sacrificing lifestyle."
—Dana G. Cohen, MD, functional medicine physician and coauthor of Quench
 
"If there ever was the right book at the right time, Brunde Broady's The Calcium Connection would be it. Broady takes us through an easy-to-understand introduction to Calcium ATPase, how an imbalance of intracellular Calcium can wreak havoc on the body, and most importantly, steps you can take to keep this enzyme on the job. Despite its wealth of knowledge, The Calcium Connection is an easy read, and if you want to do everything you can to maintain good health it's one you won't want to miss."
—Linda Bonvie, coauthor, A Consumer's Guide to Toxic Food Additives
 
"I immediately connected to Brunde's tireless need to help her son get well. She had to remain open, curious and relentless in her pursuit of answers. The Calcium Connection is a statement on possibility. Brunde's appreciation and respect for science as well as food as medicine is deeply valued. Her thoughtful voice ushers us through her process hoping that it can make a difference in our health, just as it did for her family."
—Stefanie Sacks, MS, CNS, CDN, culinary nutritionist and author of What the Fork Are You Eating
 
"As mother warrior faced with her young son's mysterious health issues, Brunde Broady stopped at nothing to learn the cause and remedy. Her long, challenging road became a deep investigation of The Calcium Connection and its relationship to health. This book is a wonderful collection of science, story, practical tips, recipes, and much needed inspiration at a time of renewed commitment to health and wellness. I highly recommend it."
—Christy Whitman, New York Times bestselling author 

"I commend Brunde for her incredible persistence in being a CEO to her young son's health. Through her determination to get to the root of his symptoms, she gave the ultimate gift of well-being. The Calcium Connection gives great insight into what she learned and easy ways we can improve our own health with awareness of Calcium ATPase inhibitors in our food, our products, and our environment to make smarter choices."
—Robin Farmanfarmaian, professional speaker and healthcare entrepreneur