Appetite for Power: Eating, Drinking & Dealmaking in NYC: A Billions Guide (Hardcover)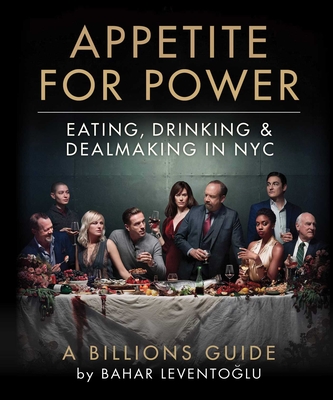 Description
---
More than One Hundred Iconic New York City Dining Institutions
From hole-in-the-walls to cozy neighborhood gems to Michelin-starred restaurants, the characters in the SHOWTIME® series 
Billions
know how to eat well, as any fan of the beloved show can confirm. Creators Brian Koppelman and David Levien spectacularly display the city's vibrant food scene—but it's more than showing us how the one percent eats. It's about integrating food, which brings people together and is an integral part of our daily lives, into the storyline while honoring the quality, the diversity, and the legacy of culinary culture in New York City. 
It's about the city staples that have been around for generations. It's about the immigrants who brought their own food to New York and made it a part of city culture. It's about the power joints where the movers and shakers of the city discuss the affairs of the day. It's about the pizza slice or the candy bar that takes you back to your childhood. It's about those who start at the bottom of the kitchen chain and ultimately open their own restaurant as well as about the old who pass the torch to future generations. It's about the energy and the creativity in New York food industry that is setting the standards for the rest of the world. It's about everyone who has contributed to making New York the dining capital of the world as it is today. 
This book presents the complete list of restaurants, bars, bakeries, bodegas, and more, featured in
Billions
. The listings include description and history of the chef and building, signature dishes, fun facts, and of course, tie-in to the show's storyline. Which characters are eating there? What is the occasion? What are they discussing? 
Features include:  
Empire Diner
Yonah Schimmel's Knish Bakery
Sushi Nakazawa
Peking Duck House
Veselka
The Spotted Pig
Ivan Ramen
Library Bar at the NoMad Hotel
Emmy Squared
Morgenstern's Ice Cream
So many more!
About the Author
---
Bahar Leventoglu was a typical academic attending to her work until a red-headed Brit came along as Nicholas Brody in Homeland and turned everything upside down! She is still a professor teaching at Duke University, while moonlighting as the blogger behind Fan Fun with Damian Lewis, writing all about Damian Lewis and his brilliant work. Billions is a dream come true for Bahar because, not only does it have her favorite actor, but also because it is filmed in New York City—her favorite city on earth—and finally, it deals with game theory, which she teaches for a living. On top of this, she and her husband are a proud foodie couple—thus, she decided to turn this love of the New York City food scene and the acclaimed tv show into this Billions dining guide. She splits her time between Durham, North Carolina, and New York City, with her husband, who is her greatest supporter.