Exposure: Poisoned Water, Corporate Greed, and One Lawyer's Twenty-Year Battle against DuPont (Hardcover)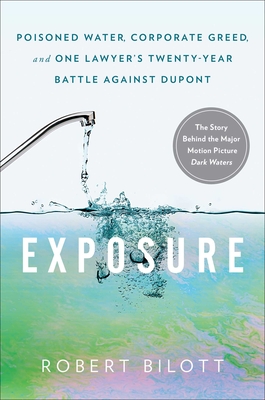 Description
---
"For Erin Brockovich fans, a David vs. Goliath tale with a twist." —The New York Times Book Review

The story that inspired the major motion picture Dark Waters, starring Mark Ruffalo as Robert Bilott.

In 1998, Rob Bilott began a legal battle against DuPont that would consume the next twenty years of his life, uncovering the worst case of environmental contamination in modern history and a corporate cover-up that put the health of hundreds of thousands of people at risk. Representing a single farmer who was convinced the creek on his property had been poisoned by runoff from a nearby DuPont landfill, Rob ultimately discovers the truth about PFAS—unregulated, toxic chemicals used in the manufacturing of Teflon and a host of other household goods. DuPont's own scientists had issued internal warnings for years about the harmful effects of PFAS on human health, but the company continued to allow these chemicals to leach into public drinking water. Until Rob forced them to face the consequences.

Exposure is an unforgettable legal drama about malice and manipulation, the failings of environmental regulation, and one lawyer's quest to expose the truth about this previously unknown—and still unregulated—chemical that presents one of the greatest human health crises of the 21st century.
About the Author
---
Robert Bilott is a partner at the law firm Taft Stettinius & Hollister, LLP in Cincinnati, Ohio where he has practiced environmental law and litigation for more than twenty-eight years. He has been selected as one of the Best Lawyers in America for several years running and has received numerous honors for his work in environmental law and litigation. Rob is a former chair of the Cincinnati Bar Association's Environmental Law Committee and a graduate of New College in Sarasota, Florida (BA) and the Ohio State University College of Law (JD, cum laude). In 2017, Rob received the international Right Livelihood Award, commonly known as the "Alternative Nobel Prize," for his years of work on PFOA. Exposure: Poisoned Water, Corporate Greed, and One Lawyer's Twenty-Year Battle against DuPont is his first book.
Praise For…
---
"Bilott is an engaging narrator who breaks our hearts with tales of clients suffering excruciating ailments and amazes us with endless 14-hour days scouring technical reports in search of that one clue that might help him make his case. The naïve corporate defense attorney we meet at the book's start is gone by the end, and he seems no longer surprised when he realizes that regulators, including the Environmental Protection Agency, are in DuPont's pocket. By the time he learns PFOA and its chemical cousins are in the blood of virtually all of us, he knows it's fallen to him to do the E.P.A.'s job. The book ends with him filing a federal class action suit against eight chemical companies on behalf of every American. His education is complete." —The New York Times Book Review

"In the grand tradition of Jonathan Harr's A Civil Action, lawyer Bilott presents his own real-life legal thriller...readers will be riveted...smartly told and briskly paced, with keen attention to pertinent details." —Booklist (starred review)

"Leaves little doubt that year after year, the corporation misled government agencies, courts, and consumers into a false sense of security about the poisonous nature of their manufacturing processes." —Kirkus Reviews

"An intimate account of one of the most appalling environmental crimes in modern history. Exposure is a classic story of American good and American evil—of the triumph of ingenuity, diligence, and self-sacrifice over psychopathic corporate nihilism. Rob Bilott is a hero of our time." —Nathaniel Rich, writer at large for the New York Times Magazine and author of Losing Earth: A Recent History

"Rob Bilott uncovered the most heinous corporate environmental conspiracy in history. The evidence is literally in your blood. Rob makes one shocking discovery after another while bringing the culprit to justice. You won't be able to put Exposure down." —Ken Cook, president of the Environmental Working Group