The German Girl: A Novel (Paperback)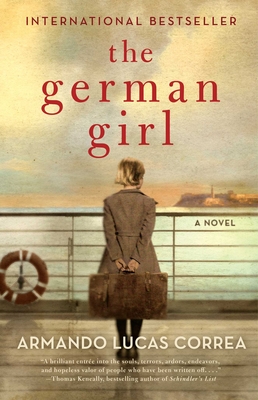 $16.00

Available in our warehouse. Ships in 2 - 3 Days
Staff Reviews
---
T.H.U.R.S. Book Club selection, September 2018, Redbery Books, Cable, WI.
— From
T.H.U.R.S. Book Club
November 2016 Indie Next List
---
"On May 13, 1939, the S.S. St. Louis set sail from Germany to Cuba with many Jewish passengers fleeing Hitler. Despite all best efforts, they were turned away from Cuba, the U.S., and Canada, forcing the ship to return to Europe, where many of the passengers would die in Hitler's death camps. Correa puts a human face on this shameful episode. Hannah Rosenthal, the daughter of wealthy aristocrats, was 12 when she boarded the St. Louis. Seven decades later, Anna Rosen receives a package from an unknown relative in Cuba that inspires her and her mother to travel to Cuba to learn the truth about their family's mysterious and tragic past. A masterful debut!"
— Deon Stonehouse (M), Sunriver Books, Sunriver, OR
Description
---
AN INTERNATIONAL BESTSELLER

Featured in Entertainment Weekly, People, The Millions, and USA TODAY

"An unforgettable and resplendent novel which will take its place among the great historical fiction written about World War II." —Adriana Trigiani, bestselling author of The Shoemaker's Wife

A young girl flees Nazi-occupied Germany with her family and best friend, only to discover that the overseas refuge they had been promised is an illusion in this "engrossing and heartbreaking" (Library Journal, starred review) debut novel, perfect for fans of The Nightingale, Lilac Girls, and The Tattooist of Auschwitz.

Berlin, 1939. Before everything changed, Hannah Rosenthal lived a charmed life. But now the streets of Berlin are draped in ominous flags; her family's fine possessions are hauled away; and they are no longer welcome in the places they once considered home. A glimmer of hope appears in the shape of the St. Louis, a transatlantic ocean liner promising Jews safe passage to Cuba. At first, the liner feels like a luxury, but as they travel, the circumstances of war change, and the ship that was to be their salvation seems likely to become their doom.

New York, 2014. On her twelfth birthday, Anna Rosen receives a mysterious package from an unknown relative in Cuba, her great-aunt Hannah. Its contents inspire Anna and her mother to travel to Havana to learn the truth about their family's mysterious and tragic past.

Weaving dual time frames, and based on a true story, The German Girl is a beautifully written and deeply poignant story about generations of exiles seeking a place to call home.
About the Author
---
Armando Lucas Correa is an award-winning journalist, editor, author, and the recipient of several awards from the National Association of Hispanic Publications and the Society of Professional Journalism. He is the author of the international bestseller The German Girl, which is now being published in seventeen languages and has sold more than one million copies; The Daughter's Tale; and The Night Traveler, for which he was awarded the Cintas Foundation Creative Writing Fellowship. He lives in New York City with his husband and their three children. Visit ArmandoLucasCorrea.com.



Praise For…
---
"Fascinating . . . a brilliant entrée into the souls, terrors, ardors, endeavors and hopeless valor of people who have been written off. . . . Now, in a new age of people in peril and adrift on the world's seas, this magnificent novel—and the unexpected and intricate tragedies of its powerfully imagined characters—bespeaks this eternal injustice."
— Thomas Keneally, Bestselling author of Schindler's List

"An unforgettable and resplendent novel which will take its place among the great historical fiction written about World War II. Hannah Rosenthal will remain in your heart and her determination to tell the story of what she saw, lived, and lost will change the way you look at the world."
— Adriana Trigiani, bestselling author of The Shoemaker's Wife

"powerful and affecting…that sheds light on a sorrowful piece of Holocaust history."
— Kirkus Reviews

"I found myself unable to put the book down. I was able to identify with what my parents must have experienced first in Germany and later the St. Louis. . . . beautiful and heartbreaking."
— Judith (Koepple) Steele, survivor of the St. Louis

"It was so true to our many life experiences… I became enthralled with the descriptions of the emotional turmoil that these characters endured."
— Eva (Safier) Wiener, survivor of the St. Louis

"A vital tribute to liberty, love and justice…one of the most fascinating and extraordinary literary events of recent times."
— Zoé Valdés, international bestselling author of The Weeping Woman

"Profound and moving … This novel touched me personally, especially because it is written from the point of view of a girl, just like me, on the ship. This tragedy, ignored for so many years, contains a lesson the world must learn and never forget: compassion for refugees."
— Ana Maria (Karman) Gordon, survivor of the St. Louis

"A timely must-read."
— People