Picture Us In The Light (Hardcover)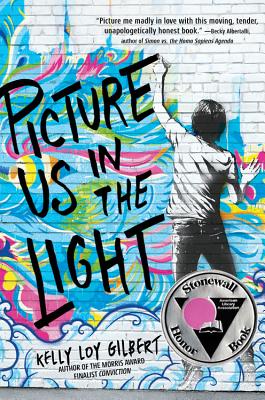 $17.99
Available in our warehouse. Ships in 2 - 3 Days
Staff Reviews
---
Chapter & Verse Book Club selection, September 2018, Redbery Books, Cable, WI.
— From
Chapter & Verse
Description
---
"Picture me madly in love with this moving, tender, unapologetically honest book."
-Becky Albertalli, #1 best-selling author of Simon Vs. the Homo Sapiens Agenda
Winner of the California Book Award and Stonewall Honor!
Danny Cheng has always known his parents have secrets. But when he discovers a taped-up box in his father's closet filled with old letters and a file on a powerful Bay Area family, he realizes there's much more to his family's past than he ever imagined.
Danny has been an artist for as long as he can remember and it seems his path is set, with a scholarship to RISD and his family's blessing to pursue the career he's always dreamed of. Still, contemplating a future without his best friend, Harry Wong, by his side makes Danny feel a panic he can barely put into words. Harry's and Danny's lives are deeply intertwined and as they approach the one-year anniversary of a tragedy that shook their friend group to its core, Danny can't stop asking himself if Harry is truly in love with his girlfriend, Regina Chan.
When Danny digs deeper into his parents' past, he uncovers a secret that disturbs the foundations of his family history and the carefully constructed façade his parents have maintained begins to crumble. With everything he loves in danger of being stripped away, Danny must face the ghosts of the past in order to build a future that belongs to him.
About the Author
---
Kelly Loy Gilbert believes deeply in the power of stories to illuminate a shared humanity and give voice to complex, broken people. She is the author of Conviction, a William C. Morris Award finalist, and lives in the SF Bay Area. She would be thrilled to hear from you on Twitter @KellyLoyGilbert or at www.KellyLoyGilbert.com.
Praise For…
---
"A searing exploration of buried secrets and the heart-wrenching ways that they can tear child from parent, friend from friend and a community from its long-held identity."—
Sabaa Tahir, #1 New York Times best-selling author
"This urgent, achingly beautiful story shines a light on those living in the shadows. A beacon of hope and resistance."—
Melissa de la Cruz, #1 New York Times best-selling author
*"All together, it's a heady concoction: a compelling story of all kinds of love and all kinds of heartbreak overlaid with the unveiling of all kinds of secrets."
—
BCCB (starred review)
"Moving, tender, honest, and intense."—
The Coil
"Kelly Loy Gilbert's story is heartbreaking and beautiful, touching on immigration, suicide, sexual orientation, money (and lack thereof) with poise and care."—
Bustle.com
"Heartbreaking and transcendent. Gilbert is a true artist of character, both obscuring and illuminating with each brilliant turn of phrase. In Danny, she gives us a narrator who, in so deeply and completely revealing his own inner life, shows us each other and ourselves."—
Anna-Marie McLemore, author of Stonewall Honor Book When the Moon Was Ours and Wild Beauty
*"The author demonstrates exquisite facility with tech-savvy teen-speak in every scenario and balances the authentic dialogue with elegant prose. An excellent choice for YA collections."—
School Library Journal (starred review)
*"With grace and respect, Gilbert manages to address the existential quandaries of both second-generation American teens and their immigrant parents Gilbert methodically lays bare her characters' secrets as if she was slowly pulling a cloth off a fine painting."—
Booklist (starred review)
*"Family, art, love, duty, and longing collide in this painfully beautiful paean to the universal human need for connection Exquisite, heartbreaking, unforgettable."—
Kirkus Reviews (starred review)
*"Gilbert masterfully negotiat[es] plot twists and revelations while keeping the focus on her characters."—
Publishers Weekly (starred review)
"Picture me madly in love with this moving, tender, unapologetically honest book."—
Becky Albertalli, William C. Morris Award winning author of Simon Vs. the Homo Sapiens Agenda
"Few books have ever moved me like this masterful story that pulses with love, loss, quiet hurts, and soaring dreams. An instant classic."—
Jeff Zentner, William C. Morris Award winning author of The Serpent King and Goodbye Days
"A novel as radiant as its title suggests.
Picture Us in the Light
is fierce proof that Kelly Loy Gilbert is one of the best writers around."—
David Arnold, New York Times best-selling author of Mosquitoland
"Heartbreaking page-turner. With a unique voice and impeccable writing, Picture Us in the Light is a must-read destined to become a classic."—
VOYA
"
Picture Us in the Light
illuminates the intricate bonds that draw us together. Danny Cheng, a young artist growing up amongst Ivy-League minded peers, will break your heart into a million pieces, and then quietly put it back together. Impressively layered and real."—
Stacey Lee, 2017 Pen Center USA Literature Award Winning Author of Outrun the Moon
"In addition to offering a heart-rending depiction of the gritty realities of life for immigrants fearing deportation and a poignant exploration of a teen struggling to be open about his sexual identity, this novel also offers a thrilling mystery, gradually revealing a tragic secret that casts the family's entire history in a shockingly different light."—
Buffalo NewsAccolades
The Stonewall Book Award - Mike Morgan and Larry Romans Children's and Young Adult Literature Award Honor
Rainbow List 2019
YALSA Best Fiction for Young Adults List
Notable Social Studies Trade Books for Young People 2019
Kirkus Reviews' Best Books of 2018, selection
2018 Cybils Award, Young Adult Fiction Nominee
School Library Journal Best Books 2018
BNTeen: Favorite YA Books of 2018
Teenreads' Teen Choice Book Award 2019, nominee
Nerdy Book Club: 2018 Nerdy Award winner for Best Young Adult Fiction
BNTeen: 14 of Our Most Anticipated Sophomore Novels of 2018, selection
BookRiot: Riot Roundup: The Best Books We Read in January (2018), selection
BNTeen: 8 YAs About Defying Parental Expectations, selection (2018)
BookRiot: 8 Books About Immigrants to Look Forward to in 2018, selection
Bookish: Spring 2018's Must-Read Young Adult Books, selection
Brightly: The Best Children's and YA Books of April 2018, selection
The Strategist: Becky Albertalli on the LGBTQ-Themed YA Books to Read Now, selection
Bustle: The Sequel to 'Love, Simon' & 12 Other New YA Books Coming Out In April 2018, selection
The Coil: Most Anticipated April 2018 Books, selection
Bookish: April 2018 Book Club Picks: Queens, Feminists, and Zombie Slayers, selection
Epic Reads: Here's Your Bookish Horoscope for April!, selection (Pisces)
BookRiot: Must-Read April New Releases, selection (2018)
BNTeen: 12 Diverse Books to Read for Pride Month, selection (2018)
BookRiot: Best Books of 2018 So Far, selection
BookRiot: Queer and Here: 10 QPOC YA BOOKS, 2018
Houston Family Magazine: Summer Reading Picks, selection (2018)
BookRiot: 50 Must Read 2018-2019 Releases with East Asians on the cover, selection