The Social Media Marketing Blueprint for Lawyers (Paperback)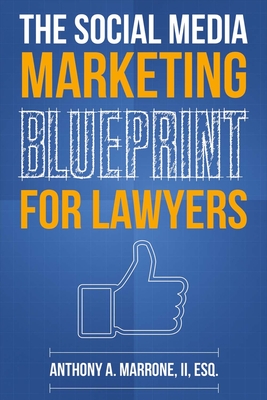 $19.99

Available for special order
Description
---
Have you thought about marketing your professional services on social media, but didn't know how to begin? Did you think: I already have a personal profile on Facebook and my account on LinkedIn, should I use those? Do I really need to know about Twitter and Instagram, or are those just for kids? Dipping your toes into the social media waters can be an overwhelming step for many professionals, especially when you consider the ethical issues involved with advertising and the need for constant vigilance for reputation management in the digital age.

Practicing attorney and social media enthusiast, Anthony Marrone, sought to solve those problems for his own law practice, and in doing so wrote a book, which draws together his research and provides concrete examples of how to use social media in your law practice. In exploring the social media field he quickly realized there is not a lot of guidance to attorneys for using these platforms as marketing tools. The books covers a wide-range of topics and there are actionable steps that the novice and the expert social media user can utilize to generate an increased following on any social media platform. Likewise, the book can be used as a manual for solo practitioners who may have a general law practice or a niche, or by big firm legal marketers looking to gain an edge on their competitors by helping their firm generate top-notch social media content. Some of the things you'll learn include:

• Creating unique and engaging content for all social media platforms;
• Establishing a social media plan to consistently and regularly market your practice;
• Complying with all ethical rules and regulations while getting ahead of your competition using the latest industry trends.

Whether you are a social media novice, or consider yourself an expert looking to pick up the newest techniques and trends, learn how to market yourself and your law firm using ethically appropriate social media marketing strategies proven successful by some of the biggest companies in the world.
About the Author
---
Anthony A. Marrone, II, Esq., is an attorney in private practice and the owner of The Marrone Law Firm, with offices in Central and Northern New York. He focuses his practice on elder law, trust & estate planning, and special needs planning. He regularly speaks on those topics and on social media marketing for lawyers. He firmly believes that you should not outsource your social media marketing to a non-lawyer until you understand all of the business and ethical considerations for lawyers on social media. Contact him with any questions: anthony@themarronelawfirm.com.