The Secret Project (Hardcover)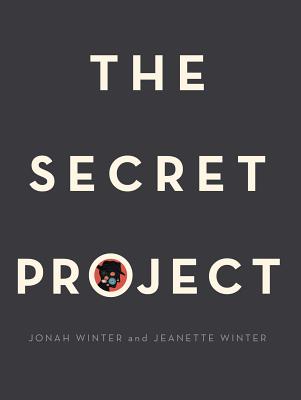 $17.99

Available for special order
Description
---
Mother-son team Jonah and Jeanette Winter bring to life one of the most secretive scientific projects in history—the creation of the atomic bomb—in this powerful and moving picture book.

At a former boy's school in the remote desert of New Mexico, the world's greatest scientists have gathered to work on the "Gadget," an invention so dangerous and classified they cannot even call it by its real name. They work hard, surrounded by top security and sworn to secrecy, until finally they take their creation far out into the desert to test it, and afterward the world will never be the same.
About the Author
---
Jonah Winter is the award-winning author of more than forty nonfiction picture books that promote environmental awareness and social and racial justice. Among them are Here Comes the Garbage Barge!; Ruth Bader Ginsburg: The Case of R.B.G. vs. Inequality; My Name is James Madison Hemings; Barack; The Founding Fathers!; and Lillian's Right to Vote, a Jane Addams Children's Book Award recipient and Kirkus Prize finalist.

Jeanette Winter is a celebrated picture book creator whose acclaimed works include Diego; Oil; and The Secret Project, all written by Jonah Winter, and her own Sisters: Venus & Serena Williams; The World Is Not a Rectangle: A Portrait of Architect Zaha Hadid; Nanuk the Ice Bear; Malala, a Brave Girl from Pakistan/Iqbal, a Brave Boy from Pakistan: Two Stories of Bravery; Henri's Scissors; Biblioburro: A True Story from Colombia; Nasreen's Secret School: A True Story from Afghanistan; and The Librarian of Basra: A True Story from Iraq.
Praise For…
---
A picture book takes on the creation of the atomic bomb. "In the beginning," the story opens, with overtones of Genesis, and it does, indeed, become a story of creation and elemental powers of the universe. The first two pages suggest a Roxaboxen-style celebration of a desert playscape, but then the secret project—the Manhattan Project—unfolds. The local boys' school is closed, scientists arrive at a place that doesn't even really exist yet, and shadowy figures get to work creating a "Gadget" of enormous power. Ingeniously, Jeanette Winter's illustrations balance the dark, cloaked secrecy of Los Alamos, signified by silhouetted figures viewed through windows, with the bright beauty of the outer world—the mesas, cacti, coyotes, prairie dogs, and desert mountains; Hopi artists carving dolls out of wood "as they have done for centuries;" and Georgia O'Keefe painting a gorgeous desert scene. Jonah Winter's text is eloquent, and his mother's acrylic-and-pen illustrations evoke a beautiful landscape in danger if the scientists' contraption works. When the bomb explodes, the monstrous mushroom cloud grows over four pages, concluding with a pitch-black double-page spread and no further text, which will leave young readers eager to know more. An informative author's note will help adults provide the historical context. An astonishing way to lay the groundwork for such works for older readers as Steve Sheinkin's Bomb (2012), this is a beautifully told introduction to a difficult subject. (Informational picture book. 3-7)
— Kirkus Reviews *STARRED REVIEW*

Though it's notorious now, the Manhattan Project was veiled in the deepest secrecy while scientists researched and developed the atomic bomb, and it's that confidentiality this somber picture book takes as its focus. Nearby townspeople, even some of the laborers who worked at the lab, had no idea what was going on, and the scientists working on splitting the atom can barely say their goals out loud: "What they are trying to invent is so secret, they cannot even call it by name." Jeanette Winter's marvelous, flat vignette illustrations show beautiful, detailed desert landscapes in rich colors and residents merrily going about their daily lives, but the scientists are all rendered in shadowy grays and blacks, sometimes only appearing as silhouettes. All that changes, though, when the scientists, looking utterly shocked, blow up the bomb: a fiery mushroom cloud grows ever larger over several pages, and the book ends joltingly with a spread of featureless black, before a concluding author's note offers additional information about the bomb and its ultimate effects. While it's difficult to imagine this resonating with the typical picture book reader, the quiet—and then abruptly explosive—tone is spot-on, cultivating both curiosity and unease, as if this is a secret we'd rather not know. Expect plenty of questions after sharing this with children, though it's likely that's precisely the point. — Sarah Hunter
— Booklist, STARRED REVIEW

Secrets seldom come grimmer than in this unsettling tale, which describes the Los Alamos nuclear lab and the creation of the atomic bomb. The mother-son team behind Diego and other picture book biographies pairs an informational tone with simmering ambiguity. Their story opens on "a peaceful desert mountain landscape," where a coyote howls, an artist (Georgia O'Keeffe) paints, and a Hopi man carves a kachina doll. After the government commandeers a private school, "the most brilliant scientists in the world" arrive to take up nighttime research, their twilit activities contrasting with sunny New Mexico settings in ochre, pink, violet, and sage. Jonah Winter repeatedly refers to "shadowy figures" at work on a mysterious "Gadget," and Jeanette Winter pictures them as anonymous, steel-gray silhouettes. When the men gather in a bunker to test the Gadget, the narration disappears. In a chilling wordless sequence with a drab, light-sucking background, a white-gold and blood-red mushroom cloud blossoms, followed by an empty spread in glossy black. An author's note explains what happened next. Sure to spark conversation about ethics and the use of nuclear weaponry, this powerful book demands a wide readership. Ages 5–8.
— Publishers Weekly *STARRED REVIEW*

A moving, nonpreachy springboard for older elementary grade and middle school discussions of the Manhattan Project or nuclear weapons in general.
— School Library Journal

A peaceful, remote boys' school is abruptly evacuated and closed under government order when "the principal was told that his school was needed for important government work." Then come the scientists, "driven to this secret location, which has no name," and the support workers, "sworn to secrecy about the existence of this place." Scientists make calculations; they are under time pressure and apparently in a rivalry with other scientists, working with elements that "can be turned into something with enormous power." At last it's ready. There's a tower, a Gadget, a bunker, a countdown. Then a blast like no other blast known.

The point at which readers recognize the nature of the Gadget and the Secret Project—or whether, in fact, they do recognize it before Jonah Winter's revelatory endnote—makes this clever exposition of the World War II development of the atomic bomb at Los Alamos an unusually effective and highly individualized reading experience. Steve Sheinkin's Bomb (BCCB 10/12) delivered this story with heart-pumping pacing and nail-biting detail, but this picture-book gem takes the opposite approach, reducing the historical episode to its elemental, quasi-folkloric core, and shifting the audience into the role of an average, early 1940s American Joe, who has been kept in the dark about the nation's lethal program and is about to discover the unimaginably high cost of winning a war.

Jonah Winter's text is accessible to a young audience, and children who know nothing of the Manhattan Project (never called by that name here) will thrill to a conspiracy story with an ending so thunderous that it initially resonates as fiction rather than fact; the picture-book format may even reinforce that naïve perspective. Those who know what's coming, however, see in the visual interplay of mystery and innocence something very different. Jeanette Winter's pictures move eerily and seamlessly among the sun-drenched, wide open New Mexico landscape where artists come to paint and the tenebrous, hidden rooms and labs in which scientists—portrayed as ebony figures outlined in gray—carry out their top secret agenda. The blast itself mushrooms in a four-page, four-panel sequence, followed by a concluding double-page spread of pitch black. There's no conclusion, no "The End," because of course there is no ending—just the imminent and horrifying disclosure of the Secret Project at Hiroshima and Nagasaki, and the nuclear legacy with which we now live.

A picture book's powerful potential to reach multiple audiences at varied levels of prior knowledge and understanding is on full display here, and adults tasked with shepherding youth of all ages through the darkest episodes of history will appreciate so moving and versatile a guide. The youngest audience will learn the facts, but the sinister implications a secret government project and the unimaginable consequences of covert research will impel an older readership to confront their grim inheritance of "15,700 nuclear weapons still in existence throughout the world," and to work toward a "day that number will be zero."
— Bulletin of the Center for Children's Books *STARRED REVIEW*

You mightn't think the Manhattan Project would be a likely subject for the tidy iconographer Jeanette Winter, even while such books as Mama (about the Indian Ocean earthquake) and The Librarian of Basra (about the Iraq War) demonstrated her interest in, thematically, the big picture. The text by Winter fils unfussily grounds the story in its landscape—the mountains of northern New Mexico—observing the transformation of a "quiet little boys' school" into a "secret location which has no name" where scientists work on the code-named "Gadget." The eerie, silhouetted paintings of the bomb-makers at work contrast dramatically with the pink-purply illustrations of the desert outside (where another Winter subject, Georgia O'Keeffe, is seen painting a mesa). When the Gadget is secretly moved to its testing grounds, the palette grows more ominous, fading to gray for the countdown, and then the pictures spectacularly erupt in both size and color for the detonation. The closing spread is completely, ominously black. An author's note supplies more information about the event and its repercussions, but the text itself, concise and thorough, stands on its own, its dispassionate accounting just the right counterpoint to the contained terror in the art.
— The Horn Book *STARRED REVIEW*

This picture book tells the story of the secret creation of the atomic bomb. An all boys' school in a desert location is closed, taken over by the government, and becomes the laboratory for the world's most intelligent scientists. They gather to work in secrecy to create a "gadget." The project is so secret that many of the people working there have no idea what is being created. Jeanette Winter's illustrations depict a bright and cheerful desert life, while conversely shrouding the scientists and their work in darkness, showing silhouetted figures in shadowy, ominous colors. Once the "gadget" is complete, they travel deep into the secluded desert to test it out, observing it from afar. The final pages feature only the powerful images of the scientists watching the results of their creation explode into clouds and plumes of fire and destruction. The plain, black endpapers suggest harsh finality. Jonah Winter's honest depiction, accompanied by the vivid and detailed artwork, tells the creation of the atomic bomb with expertise and tact. The end of the book features an author's note, followed by a page of suggestions for further reading. This is an excellent historical, as well as scientific, picture book offering opportunity for rich discussion among student readers and educators.

Highly Recommended
— School Library Connection