All Ears, All Eyes (Hardcover)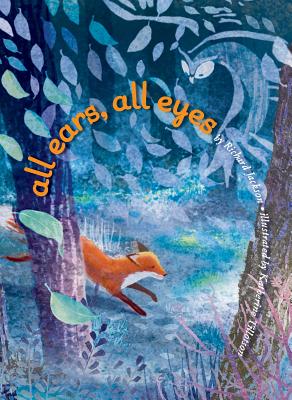 $17.99

Available in our warehouse. Ships in 2 - 3 Days
Description
---
Shh…look…listen…to the sounds of the dark say Goodnight!

What sails? What flies? Those…these, Down low, nearby, far off, up high.
Who listens? Who looks? Who hears? Who sees?

An homage to the melodies of nighttime, to each critter that sings, hoots, or glows, All Ears, All Eyes takes us on a moonlit journey where the landscape shimmers with Fantasia-like beauty. Where if you look and listen, you might spy an owl, a deer, a chipmunk—or—what else!—before falling asleep.
About the Author
---
Richard Jackson was a long-time editor at Atheneum Books for Young Readers and the critically acclaimed author of a number of books, including Have A Look, Says Book., illustrated by Kevin Hawkes, which Publishers Weekly proclaimed "a shoe-in for the bedtime rotation;" All Ears, All Eyes, illustrated by Katherine Tillotson; and This Beautiful Day, illustrated by Suzy Lee, which received three starred reviews.

Katherine Tillotson is the illustrator of several children's books, including All Ears, All Eyes; All the Water in the World; Shoe Dog; and It's Picture Day Today!. Ms. Tillotson lives in San Francisco with her husband. Visit her at KatherineTillotson.com.
Praise For…
---
This quiet book explores what happens in a forest as day slips into night. Under a full moon, the landscape glows, exposing various night creatures and their activities. The air above resounds with the hooting of owls and the whirring of bats. On the ground, other creatures stir. A porcupine "scoots between roots." Others prowl through the shadows, such as a fox, a deer, and mice. Others make no sounds at all, like the fireflies that fill the night with glowing lights. Jackson's sparse but sensory text entices readers' imaginations while sparking their curiosity. Its rich onomatopoeia adds to the story's enjoyment, while its quiet pace creates a soothing bedtime story for young readers. Tillotson's mottled illustrations that sneakily play with positive and negative space complement the text. Digitally worked watercolors hold on to the fading light, shapes morphing from page to page so that leaves become eyes; translucent print in varying typefaces and fonts floats on the page, in motion with the forest creatures. Readers will relish finding the veiled creatures in the darkening woods—both those that are mentioned on the pages and those that are not. In addition to fostering observational skills in young children, this book could also tie in well with primary grade environmental curricula. Dazzling.
— Kirkus, STARRED REVIEW

A forest night setting created with watercolor and digital techniques at first connotes quiet and stillness, but from beginning to end, this story encourages readers to look closer and listen deeper to discover a symphony of sight and sound. As the day starts to fade, an owl sits practically camouflaged in a tree, painted in the same blues and purples as the leaves. When night falls, the following pages repeat the technique, and many of the creatures cannot be seen until they, surprisingly and delightfully, become visible. This pairs well with the questions and cadence of the text ("What surprises? What sings? Crick-crick-crickets chirring in the thick-thick-thickets."). There's no need to fear the dark knowing that there's such company stirring within it, and yet even with this noise and activity, the ending provides a gentle send-off to slumber. VERDICT This lovely, evocative selection is a guessing game and a soothing bedtime offering that's perfect for reading aloud, especially to young animal and nature lovers.
— School Library Journal *STARRED*

Using words that glint and sparkle, Jackson (In Plain Sight) captures human perceptions of the forest at twilight. Lyrical ("as light falls and night rises") and warm ("Nature's ark glows"), Jackson's fragmentary lines suggest a dialogue between two voices—an adult and a child?—and their observations create a darkness that is inviting, mysterious, and full of life, without being threatening. "What scoots between roots?" asks one voice as a porcupine scuttles past a towering tree. Spots of light suggest moonlight amid the dark greens, blues, mauves, and lavenders of Tillotson's (Shoe Dog) artwork, making the environment easier to discern and the animals identifiable—an owl on a branch, a fox darting between tree trunks, a mouse on a limb. In other scenes, Tillotson concentrates on the way that the deepening twilight allows for only ghostly glimpses of the nearby creatures, like the silhouette of a cat that walks right in front of the reader ("Where? There! Shhh"). There are no fireworks, no high-flown language—just an immediate and vivid connection to the living world. Ages 4–8. (Mar.)
— Publishers Weekly, starred review

Look closely: Do you see the owl sitting in the leaves on the front cover? Are you all eyes? Now listen: Do you hear the chomping of raccoons, who are the same burnt orange as the sundown? Are you all ears? Whether you look up or down, there are messages everywhere. Jackson's text, full of evocative words ( whirring, chirring, stirring), takes us on a journey into the growing darkness: at first, just a "dim-dimming woods"; later, the dark is "near brimming now." The text, with rhyme that delights and surprises, is big and bold for main concepts, smaller and closer to the background hues when describing some of the animal action. Tillotson's illustrations take us full circle, from bright leaves swirling on a white background on the opening end pages to luminescent ones swirling against the dark sky as the book closes. The colors of the approaching nightfall are soft, the images impressionistic, and lots of swirls and horizontal lines propel viewers forward. Like Mordicai Gerstein's The Night World (2015), this is a celebration of the approaching darkness and all that happens in the night. Repeat visits reveal new images hidden within the illustrations, and the gentle text lends itself well to read-alouds. A lovely book from start to finish. — Edie Ching
— Booklist, STARRED REVIEW