Faithful: A Novel (Paperback)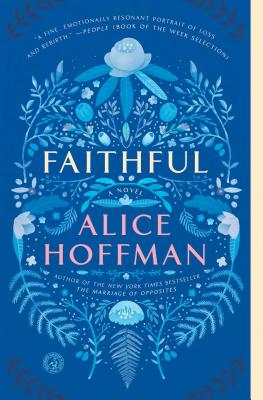 $16.99

Available in our warehouse. Ships in 2 - 3 Days
Staff Reviews
---
Alice Hoffman, award winning author of The Marriage of Opposites and The Dovekeepers, once again brings us a story that is emotional, dramatic, and rich in highly believable, immensely likeable characters.
Shelby Richmond has survived a tragic accident but her best friend Helene is left in a permanent comatose state. How can Shelby go on? How can anyone love her after what she's done? The people that Shelby meets through the years are not ready to give up on her, no matter how hard she tries to push them away. Each brings a new direction and sense of belonging to Shelby's life. With the help of anonymous postcards that she regularly receives from a "guardian angel" who was at the scene of the accident, Shelby slowly begins to feel hopeful about her future.
This is not just a story about a teen trying to survive a tragedy. It's about connections with the people you least expect in your life, finally depending on them again and more importantly, realizing that they can depend on you too. -- Maureen, Redbery Books, Cable, Wisconsin
— From
Staff Picks
November 2016 Indie Next List
---
"Faithful is compulsively readable and includes all of the traits we have come to love and expect from an Alice Hoffman novel. It is a coming-of-age tale of the emotional journey of a girl overcome with heartbreak after a tragic accident, who is now attempting to redefine herself. It is a hopeful lesson in faith, love, friendship, forgiveness, and opening up to new possibilities. A friendly warning: Expect a craving for Chinese food and a desire to adopt a rescue dog after reading."
— Tarah Jennings (W), Mitzi's Books, Rapid City, SD
Top Ten
---
"After decades of working in bookstores, I am-perhaps not suprisingly-immune to picking up a new book by a prolific author. I tend to assume, as with rock songwriters, that an author's best work is always behind them. If that is true, then I have seriously missed out by not reading Hoffman before. I pretty much inhaled this book. Faithful, although destined for the adult fiction section, reads like a smart young adult novel and would be a perfect pick for a mother-daughter book club. Real teens, real young adults, and real parents-and one life-shattering mistake."
— Carla Bayha, Literati Bookstore, Ann Arbor, MI
Description
---
From the New York Times bestselling author of The Marriage of Opposites and The Dovekeepers comes a soul-searching story about a young woman struggling to redefine herself and the power of love, family, and fate.

Growing up on Long Island, Shelby Richmond is an ordinary girl until one night an extraordinary tragedy changes her fate. Her best friend's future is destroyed in an accident, while Shelby walks away with the burden of guilt.

What happens when a life is turned inside out? When love is something so distant it may as well be a star in the sky? Faithful is the story of a survivor, filled with emotion—from dark suffering to true happiness—a moving portrait of a young woman finding her way in the modern world. A fan of Chinese food, dogs, bookstores, and men she should stay away from, Shelby has to fight her way back to her own future. In New York City she finds a circle of lost and found souls—including an angel who's been watching over her ever since that fateful icy night.

Here is a character you will fall in love with, so believable and real and endearing, that she captures both the ache of loneliness and the joy of finding yourself at last. For anyone who's ever been a hurt teenager, for every mother of a daughter who has lost her way, Faithful is a roadmap.

Alice Hoffman's "trademark alchemy" (USA TODAY) and her ability to write about the "delicate balance between the everyday world and the extraordinary" (WBUR) make this an unforgettable story. With beautifully crafted prose, Alice Hoffman spins hope from heartbreak in this profoundly moving novel.
About the Author
---
Alice Hoffman is the author of more than thirty works of fiction, including The Book of Magic, Magic Lessons, The World That We Knew, Practical Magic, The Rules of Magic (a Reese Witherspoon Book Club Pick), the Oprah's Book Club Selection Here on Earth, The Red Garden, The Dovekeepers, The Museum of Extraordinary Things, The Marriage of Opposites, and Faithful. She lives near Boston.