A Message from Martha: The Extinction of the Passenger Pigeon and Its Relevance Today (Bloomsbury Nature Writing) (Hardcover)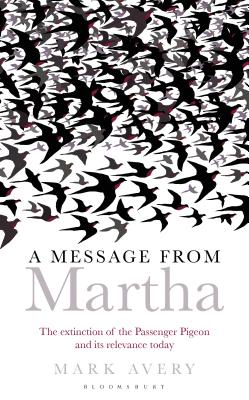 Description
---
September 1st, 2014 sees the centenary of one of the best-documented extinctions in history—the demise of the Passenger Pigeon. From being the commonest bird on the planet 50 years earlier, the species became extinct when Martha, the last of her kind, died at the Cincinnati Zoo. This book marks the centenary of that tragic event. Built around the framework of a visit to Cincinnati and the pigeon's former haunts in North America's east coast, by author Mark Avery, it tells the tale of the pigeon, and of Martha, and explores the largely untold story of the ecological annihilation of this part of America in the years between the end of the US Civil War and 1900—an unprecedented loss of natural beauty and richness, as the prairies were ploughed, swiftly to be replaced by a dustbowl, while the population of Bison plummeted from around 30 million to just 1,000, the victim of habitat destruction and indiscriminate slaughter.
Written engagingly and with an element of travelog as well as historical detective work, this book is more than another depressing tale of human greed and ecological stupidity. It contains an underlying message—that we need to re-forge our relationship with the natural world on which we depend, and plan a more sustainable future. Otherwise the tipping point will be crossed and more species will go the way of the Passenger Pigeon. We should listen to the message from Martha.
About the Author
---
Mark Avery is a scientist by training and a naturalist by inclination, who writes about and comments on environmental issues. Mark worked for the RSPB for 25 years before standing down in April 2011; he was the RSPB's Conservation Director for nearly 13 years. Mark lives in rural Northamptonshire.
Praise For…
---
"It offers a considered perspective on the habitat loss and unsustainable harvesting that led to the pigeon's demise." —Nature Magazine

"Tells the story of that deadly combination of events as engagingly as any popular history of the subject has done." —Open Letters Monthly

"[A Message From Martha] stands apart from and above the rest in both the quality of writing as well as the information collected within its pages." —The Well-Read Naturalist

"Although A Message from Martha tells the unfortunate story of a bird that is now gone forever, it offers us a theme rich in hope." —About.com

"This absorbing book is an engaging and wistful, yet measured chronicle about the tragic loss of one very special, iconic species. . . . draw the inevitable conclusion that no species can be considered so common that it is safe from extinction." —The Guardian US, Best Nature Literature 2014

"Smart, fast-moving prose . . . Everyone, not just birders, needs to hear this story." —Birdwatching Magazine