History: From the Dawn of Civilization to the Present Day (Hardcover)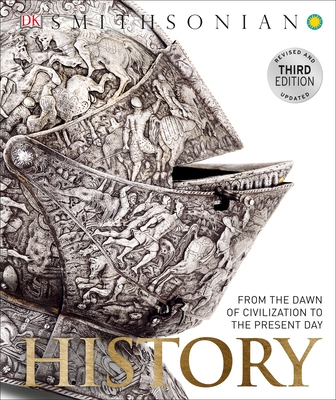 $50.00
Available in our warehouse. Ships in 2 - 3 Days
Description
---
Explore the fascinating story of the human race and more than 6 million years of global history in this dynamic visual encyclopedia of world events.

Using a compelling narrative format, DK's History untangles the common threads and forces that have shaped the past and informed the present to show that ours is a history including genes and viruses - not just battles and treaties. This updated and expanded third edition includes coverage of contemporary issues, such as climate change, economic developments, the rise of social media, and more.

Richly illustrated and concisely explained, each historical episode is linked to others in "before" and "after" panels that reveal the causes and consequences of the events on the page. Boxes highlight the impact of innovative inventions - the printing press and the steam engine - as well as the defining ideological concepts of the day, including Communism, State Censorship, and Roosevelt's New Deal.

Decisive moments - from the Battle of Hastings and the storming of the Bastille to D-day, the building of the Berlin Wall, and 9/11 - are investigated in depth, alongside profiles of major figures, such as Rameses II, Julius Caesar, William Wilberforce, Martin Luther King, and Nelson Mandela.

An extensive "National Histories" section separately chronicles the key events of each and every sovereign state in the world, as well as many of their self-governing territories.

Thought-provoking and inspiring, and with a fresh, contemporary perspective, History combines fascinating content with stunning images of painting, sculpture, and architecture to create a visual celebration of human achievement and endeavor that deserves a place on every family's bookshelf.


About the Author
---
Adam Hart-Davis is a writer, broadcaster, and photographer, and one of the world's most popular and respected "explainers" of science. His TV work includes What the Tudors and Stuarts Did for Us, Tomorrow's World, and Science Shack, and he is the author of more than 25 books on science, invention, and history. He is an honorary fellow of the Newcomen Society for the History of Engineering and Technology. Hart-Davis has also received medals from the Royal Academy of Engineering, the Sir Henry Royce Memorial Foundation, and the Institution of Incorporated Engineers.
Praise For…
---
"[T]he book excels in by telling well-chosen stories in simple, illustrated form, always offering enough depth of information to satisfy the curious." – DigitalInsider.com