The Excellent Lombards (Paperback)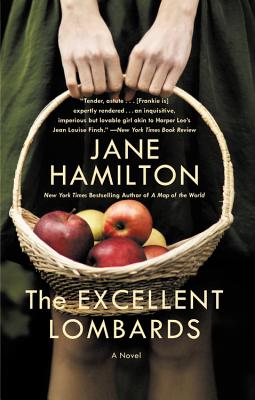 $14.99

Available for special order
Staff Reviews
---
T.H.U.R.S. Book Club selection, November 2018, Redbery Books, Cable, WI.
— From
T.H.U.R.S. Book Club
Description
---
A new classic from the author of Oprah's Book Club picks A Map of the World and The Book of Ruth.

"This is the book Jane Hamilton was born to write... [it is] magnificent." —Ann Patchett, New York Times bestselling author of Commonwealth

Mary Frances "Frankie" Lombard is fiercely in love with her family's sprawling apple orchard and the tangled web of family members who inhabit it. Content to spend her days planning capers with her brother William, competing with her brainy cousin Amanda, and expertly tending the orchard with her father, Frankie desires nothing more than for the rhythm of life to continue undisturbed. But she cannot help being haunted by the historical fact that some family members end up staying on the farm and others must leave. Change is inevitable, and threats of urbanization, disinheritance, and college applications shake the foundation of Frankie's roots. As Frankie is forced to shed her childhood fantasies and face the possibility of losing the idyllic future she had envisioned for her family, she must decide whether loving something means clinging tightly or letting go.

"Everything you could ask for in a coming-of-age novel-- funny, insightful, observant, saturated with hope and melancholy." —Tom Perotta, author ofLittle Childrenand The Leftovers

"Tender, eccentric, wickedly funny and sage...gives full voice to Jane Hamilton's storytelling gifts." - Nancy Horan, author of Loving Frank and Under the Wide and Starry Sky
About the Author
---
Jane Hamilton's novels have won literary prizes, been made into films, and become international bestsellers; and two of them, The Book of Ruth and A Map of the World, were selections of Oprah's Book Club. Her nonfiction has appeared in the New York Times; Washington Post; Allure; O, The Oprah Magazine; Elle; and various anthologies. She's married to an apple farmer and lives in Wisconsin.
Praise For…
---
"Tender, astute...[Frankie is] expertly rendered...an inquisitive, imperious but loveable girl akin to Harper Lee's Jean Louise Finch."—New York Times Book Review

"Tender and rueful...Richly characterized, beautifully written, and heartbreakingly poignant-another winner from this talented and popular author."—Kirkus Reviews (starred review)

"This is the book Jane Hamilton was born to write, and it is a book that thrilled me to read. THE EXCELLENT LOMBARDS is, in fact, magnificent."—Ann Patchett, New York Times bestselling author of State of Wonder

"Hamilton's lushly pleasurable novel of radiant comedy, deep emotions, and resonant realizations considers the wonders of nature, the boon and burden of inheritance, and the blossoming of the self."—Booklist (starred review)

"A book with so much grace, wit, and resonance -- this is one you'll read and reread. I surely did. I laughed, I cried, I pondered, I mourned. I took these characters deeply into my heart. Hamilton at her amazing best. A timeless classic, in its first appearance."—Karen Joy Fowler, bestselling author of We Are All Completely Beside Ourselves and winner of the 2014 PEN / Faulkner Award

"Ms. Hamilton has written what's known as a 'quiet' novel, yet this beautiful coming-of-age story offers a more trenchant narrative."—New York Times

"Peopled with vivid characters...Hamilton gets it, all of it, about life and love and growing up when you just don't want to. She writes with compassion and warmth about how we see our family compared with how they really are, and who we can become when we finally cut the cord and fly free--like it or damn well not."—The Globe and the Mail

"This coming-of-age story is captivating and passionate, taking us back to being a child and believing in one thing wholeheartedly. Simply put, this is a book you won't be able to put down."—BookPage

"Jane Hamilton spins this coming-of-age tale with the same sort of poignancy that earned her previous six novels high praise."—Entertainment Weekly, "10 Books You Have to Read in April"

"Hamilton's lovely coming-of-age tale is a tender portrayal of complex, believable people facing up to change."—People

"THE EXCELLENT LOMBARDSis everything you could ask for in a coming-of-age novel--funny, insightful, observant, saturated with hope and melancholy. Jane Hamilton's novel about a young girl's life on an apple orchard is full of oddball characters and tender scenes that will linger in your memory."—Tom Perrotta, author of Little Children and The Leftovers

"What a beautiful book. Its style is a wonder of accuracy--one enters its world in the fullest possible way. At the center is a girl whose fate is linked to the fate of her family's struggling farm, a place whose rhythms and details are miraculously evoked. Jane Hamilton, whose work I have long admired, has brought us again to the juncture of innocence and chance."—Joan Silber, author or Fools, Ideas of Heaven, and The Size of the World

"In THE EXCELLENT LOMBARDS, Jane Hamilton returns to her deep love of farm and land that is quickly becoming a thing of the past. As seen through the eyes of young Mary Frances "Frankie" Lombard, whose idyllic life on the family apple farm begins to fray, it is at once a poignant coming of age story, and a profound look at the complexities of family, love, and loss in the ever changing cycle of life. It is Hamilton's masterful touch that brings it all together, that immerses us into a world as if it were our own. I loved being back in her warm embrace."—Gail Tsukiyama, author of The Samurai's Garden and A Hundred Flowers

"A powerful coming-of-age story...Her penetration into the hearts of her characters is as profound, perhaps more so, than ever before...This is a very fine novel: Its people, their individual predicaments and their relationships with one another and with the land stay with the reader long after that last page has been turned."—Minneapolis Star Tribune

"Tender, eccentric, wickedly funny and sage--THE EXCELLENT LOMBARDS gives full voice to Jane Hamilton's storytelling gifts. Frankie's tale of growing up on the family apple farm is a love letter to a threatened way of life and proof, once again, of Hamilton's extraordinary talent for dramatizing ordinary lives with nuance and compassion. I loved spending time in Frankie's world."—Nancy Horan, author of Loving Frank and Under the Wide and Starry Sky

"In THE EXCELLENT LOMBARDS the wonderfully gifted Jane Hamilton explores the lives of a family bound together and driven apart by land, money and inheritance. How intimately Hamilton understands her heroine's devotion to the apple orchard and how brilliantly she evokes the wages of time."—Margot Livesey, author of The Flight of Gemma Hardy

"Each character in this family has a story and a history to reveal. The parts play together like those of a great symphonic revolution, with the same sonic and emotional bombast you would find on a good night at Carnegie Hall....a beautiful book filled with flowing prose that will make Frankie and her family one of your favorite literary go-tos all summer long--and well after that, too."—BookReporter

"Funny and heartbreaking, colored with a palpable wistfulness...deeply affecting, a moving elegy for an idyllic way of life that's slipping away as development and technology encroach and children grow up and away from rural pleasures."—Miami Herald

"Exudes humor and compassion."—The Toronto Star

"THE EXCELLENT LOMBARDS accomplishes the neat trick of perfectly echoing its subject matter. Like life on the Lombards' Wisconsin orchard, Hamilton's prose is languid, beautiful and roiling with buried dramas."—St. Louis Post-Dispatch

"Both a lively coming-of-age story and a deeply felt portrait of an endangered species, the American farm family."—Milwaukee Journal Sentinel

"There is a well-crafted tenderness in Jane Hamilton's THE EXCELLENT LOMBARDS that teases out the drama in ordinary life and quietly lulls the reader...Frankie's love of the farm is beautifully drawn in Jane Hamilton's perfect details, creating a sense of place so strong, at times the orchard seems to transcend setting to become another character in the novel...a poignant and sometimes witty coming of age story."—New York Journal of Books

"Jane Hamilton can do anything, really...this timeworn plot still has vibrant life...It's all fresh and all strong because it's all Hamilton."—Literary Hub, "18 Books You Should Read This April"

"Jane Hamilton writes movingly of a young girl's changing views of her life and ambitions."—Manhattan Book Review

"Hamilton has always been a master storyteller, and THE EXCELLENT LOMBARDS is a story masterfully told. She doesn't give too much away at once, developing characters and places through well-chosen details, linking the past with the present smoothly, and keeping the story moving in such a way that readers may not realize how much they've learned - and how much they care about these people - until several dozen pages have gone by."—The Wichita Eagle

"A poignant coming-of-age tale that resonates with readers...beautiful."—Romantic Times