18 in America: A Young Golfer's Epic Journey to Find the Essence of the Game (Hardcover)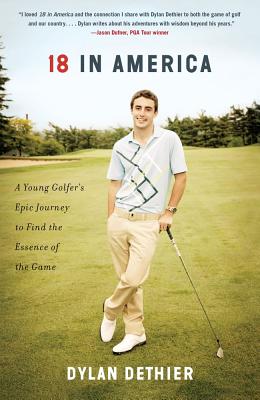 Description
---
An exhilarating account of one remarkable teenager's solo trek to play golf in each of the lower forty-eight states—a compelling coming-of-age story and a surprising look at the equalizing power of the sport in America.

At seventeen, Dylan Dethier couldn't help but think he'd never really done anything with his life. So, two months before his freshman year was set to begin, he deferred admission to Williams College. With the reluctant blessing of his parents, Dylan set out on his idea of the Great American Road Trip: to play a round of golf in each of the lower forty-eight states. What began as the teenage wanderlust of a sheltered New England kid became a journey into America's heart and soul, to "figure out where—and why—golf fit in" and what it means to be a young man today.

From a municipal course amid the decaying factories of Flint, Michigan, to the emerald fairways of Pebble Beach to a dramatic par-3 in the Badlands of North Dakota to rubbing elbows with Phil Mickelson at Quail Hollow, Dylan explores the variety of the nation's golf courses, the multiplicity of its towns and cities, and, most strikingly of all, the diversity of its people.

Hoping to find a game that would transcend golf's elitist reputation, he would play with war veterans, autoworkers, and livestock auctioneers and discover the sport's surprising capacity to break down barriers. Over one year, 35,000 miles, and countless nights alone in his dusty Subaru, Dylan showers at truck stops, sleeps with an ax under his seat, and loses his virginity. He learns the danger of making bets you can't afford to lose and the pleasure of going beyond first impressions, and above all, the powerful freedom that comes with following your dreams. Dylan's eighteenth year was one of many firsts—venturing into the world alone, exploring life's "Big Questions," and fulfilling an ambitious quest. With captivating prose and a wry, engaging voice, this precocious writer weaves an unforgettable portrait of America's fairways and those who wander them.
About the Author
---
Dylan Dethier is a native of small-town western Massachusetts. He learned to golf on a shoes-optional par-30 course near his grandparents' house on the Maine coast. Dethier is now an English major at Williams College.
Praise For…
---
"I loved 18 in America and the connection I share with Dylan Dethier to both the game of golf and our country. Anybody who has swung a golf club can tell you that it's more than a game -- it becomes a personal challenge that helps you discover yourself. Dylan writes about his adventures with wisdom beyond his years."
— Jason Dufner, two-time PGA Tour winner

"This is a superb book about golf -- but it's also a superb book about growing up, fitting in, friendship, food and the great American road. I barely know a birdie from a bogie, but it didn't matter: I still devoured Dylan Dethier's memorable tale of innocence lost and wisdom won."
— A.J. Jacobs, New York Times-bestselling author of The Know-it-All and Drop Dead Healthy

"18 in America is a golf adventure that will appeal to anyone who has ever played the great game. At its heart, though, it is the story of a young man growing into adulthood, taking chances, making mistakes, finding out what feels right and what feels wrong. I salute Dylan Dethier for stepping off the good school-good college-good job treadmill and taking a year to find out who he really is, for writing about his amazing trip with such honesty and insight, and for being willing to reveal his flaws as openly as he revels in his triumphs. It is rare to find a book—especially a golf book, especially a debut written by someone so young—that smoothly blends pure fun and astute life lessons. 18 in America will inspire golfers and adventurers both young and old. I enjoyed every page."
— Roland Merullo, author of Golfing with God and regular contributor to Golf World magazine

"An enterprising and inspirational golf journey unlike any other."
— Jim Nantz, CBS Sports

"Whether showering in truck stops, meeting Phil Mickelson and Michael Jordan, or playing at Sawgrass and Pebble Beach, the simple story of 18 in America is filled with youthful enthusiasm, honest and sincere. It's a lovely road story well told. Discover a young golf Kerouac on the road, teeing off all across America and loving it."
— Tom Lavoie

"His trip was not just about par, birdies and bogeys…. Dethier is not from the country club world of golf."
— Bob Minzesheimer

"Much more of a coming-of-age experience… In addition to opening up a Berkshires boy to a bigger world, teaching him how to cope with new and sometimes difficult situations and giving him perspective on golf's place in American life, the 35,000-mile journey in his dusty Subaru definitely helped Dethier grow up fast… this guy can really write."

"Two parts coming-of-age story, one part golf travel adventure and one part survival test. The result, 18 in America, is the work of a young man who not only is unusually insightful and self-aware, but has the writerly gifts and clear voice to tell his story. In a year that is shaping up to be an unusually good one for golf literature, it's unlikely that the genre is going to produce anything as compelling as Dethier's tale."
— Martin Kaufmann

"A great coming of age tale based around the most epic of golf trips. A quick and easy read that does not disappoint."

'I couldn't put it down… The writing is vivid. You can see the people, imagine the places and understand a young man's moments of loneliness and fear then on the next page laugh at his sense of humor. You'd think this was his 20th book, not his initial effort. I seldom read a book in two days, but I devoured Dethier's superb 256-page effort."
— Richard Lord

"It is not every year that a well-conceived golf book is written by a recent high school graduate... Sleeping in his car, showering at truck stops and raiding free motel breakfast buffets, Dethier played wherever the road took him, with golf as a vehicle for understanding America. He played with autoworkers and livestock auctioneers, and his 32,000-mile trek became a tale about everything you can learn about your country 18 holes at a time. It was a journey that was much more than a golf trip."
— Bill Pennington

"Intriguing... more than his share of unpredictable episodes that make for good reading."

"Two things will piss you off about this book. First of all, Dethier is a better golfer than you or me. Second of all, he is a better writer than you or me…. A heartfelt, introspective, coming-of-age story, Jack Kerouac meets Jack Nicklaus."

"This would be considered fine work by any writer, let alone one so young."

"Like Jack Kerouac and Ken Kesey and a host of others before him, Dethier packed his used car and his meager life savings, and set off to see and write about America.... Encounters with hustlers and thieves aside, what resonates in "18 in America" is Dethier's optimism, and his talent for perceiving and telling of the good in things, be they golf or people."

"[A] winning memoir, which transcends golf's elitist image, exposing the generous, diverse, and contradictory soul of the game—and of America itself."

"A terrific read."
— Tim Layden, senior editor, Sports Illustrated

"It's not the brushes with greatness (including caddying in a pro-am with Phil Mickelson) but the goodness of ordinary people that make his journey so memorable--for him and for us."