The Sun and Other Stars: A Novel (Hardcover)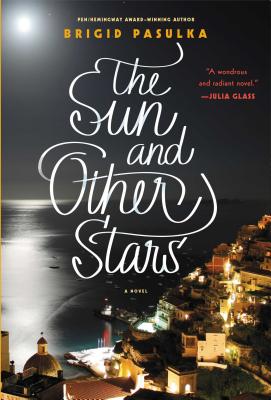 Staff Reviews
---
The Sun and Other Stars by Brigid Pasulka takes us to the town of San Benedetto in Italy where we meet Etto, a young man struggling with his life and the deaths of his brother and mother.

Etto's brother, Luca is a premiere soccer star on his way to glory when he is killed in an accident. Their mother is gone soon after. Etto's father owns a butcher shop and loses almost any will or desire to keep up the shop. He spends hours at the local bar watching soccer and being with everyone but his living son. Understandably and probably subconsciously, Etto does what he can to be noticed by his father while numbing the pain of loss. He throws himself into the business, though he's not nearly the butcher his father is, and makes a point of changing sections of the shop knowing full well, his father will not, and does not, approve. Etto has less than no interest in soccer.

Everything starts to take an unlikely turn when a well-known, but scandalized Ukrainian soccer player slides into town and takes up residence on the edge of San Benedetto. Yuri and his sister, Zhuki keep a low profile, but they have to eat. Etto meets Zhuki when she stops in the shop. Etto is smitten; however, Zhuki plays it cool. No one but Etto realizes who's in town. Soon Etto is invited to spend time with Zhuki and Yuri in a most unusual way (the best writing of the book and clearly the most entertaining) and Etto's life begins to look very different to him.

The Sun and Other Stars is a love story, but it is clearly not the main part of the novel. It is rather Etto's story of getting his life on track, gaining his father's respect, realizing that everything happens for a reason and we are only ones who can change. Yuri's arrival in San Benedetto is key to helping Etto begin to believe that life is a gift. Zhuki and Yuri succeed where the townspeople do not. It's not that the townspeople haven't tried, it's just not getting through to Etto.

Pasulka does an adequate job of creating a story, a situation. The Italian she liberally uses throughout is contrived and lessens the impact of the novel. There are sections of the novel that read quickly and others that plod on. Pasulka's storytelling becomes frustrating when she dangles answers to questions we have about Luca's and his mother's death, only to have the full answers shoved at us as she gallops to the end of the novel. However, it's worth the effort to overlook the uneven writing and join Etto as he realizes that making every day count, loving fiercely and forgiving are some of the best parts of life.
— From
Wendy's Easy Chair 3
February 2014 Indie Next List
---
"This is a wondrous novel that radiates with poignant, witty insights on love, loss, loyalty, and sacrifice. Pasulka's sharp, engaging prose transports readers to a seaside Italian village and immerses them in community gossip, family dramas, and personal discoveries spurred by an obsession with soccer. It is a delightfully consuming story that will leave readers satiated and smiling."
— Anderson McKean, Page & Palette, Fairhope, AL
Description
---
Set in a seaside village on the Italian Riviera, this irresistible new novel by PEN/Hemingway Award-winner Brigid Pasulka tells the story of a widowed butcher and his son whose losses are transformed into love.

Brigid Pasulka's PEN/Hemingway award-winning debut novel was compared to the works of Jonathan Safran Foer by the New York Times and hailed by Elle as "storytelling that gets under your skin and forces you to press copies into your best friends' hands." Now The Sun and Other Stars, Pasulka's extraordinary second novel, is all that and more: a profound, compelling, and big-hearted masterpiece that showcases an exquisite writer at the joyful height of her talents.

In the seaside village of San Benedetto, a resort town on the Italian Riviera, twenty-twoyear- old Etto finds himself adrift. Within the past year, Etto has not only lost both his twin brother and his mother, but in his grief has become estranged from his father, the local butcher. While his father passes the time with the men of the town in the fine tradition of Italian men everywhere—a reverential obsession with soccer—Etto retreats ever further from his day-to-day life, seeking solace in the hills above the town.

But then a Ukrainian soccer star, the great Yuri Fil, sweeps into San Benedetto, taking refuge himself from an international scandal. Soon Yuri and his captivating tomboy sister Zhuki invite Etto into their world of sport, celebrity, loyalty, and humor. Under their influence, Etto begins to reconstruct his relationship with his father and, slowly, open himself back up to the world. Who knows: perhaps the game of soccer isn't just a waste of time, and perhaps San Benedetto, his father, love, and life itself might have more to offer him than he ever believed possible.

The Sun and Other Stars is a gorgeous, celebratory tale about families, compromise, and community, and about how losses can be transformed into hope. Irresistible and unforgettable, it is a shimmering miracle of a book.
About the Author
---
Brigid Pasulka's debut novel, A Long, Long Time Ago and Essentially True, won the 2010 Hemingway Foundation/PEN Award and was a Barnes & Noble Discover Great New Writers selection. Pasulka currently lives in Chicago with her husband and son and runs the writing center at a public high school. Visit her website at BrigidPasulka.com.
Praise For…
---
"Charming…refreshing…This tale of psychological recovery gratifies."

"Read and savored slowly, it is akin to those long, hot summer days Pasulka so vividly captures. Full of light and surprising grace, it is both a poetic coming-of-age story and a poignant examination of the nature of family and belonging."

"[A] celebration of young love, sunshine and la dolce vita..."

"Magical. . .Pasulka's delightful debut braids together two tales of old and new Poland."

"Poetic... A beautiful story rich in detail and authenticity."

"What The Art of Fielding did for college baseball, The Sun and Other Stars succeeds in doing for pickup soccer."

"[A] heartwarming second novel from award-winning writer Pasulka. . . [She] scores a refreshing success with her affectionate portrait of a small-town community and her fresh angle on an aching heart."

"The Sun and Other Stars bursts with a Mediterranean ease and exuberance... energetic and carefree, reminiscent perhaps of Dave Eggers or Salman Rushdie."

"With a magician's sleight of hand, Brigid Pasulka once again conjures up a stunning chorus of characters. . .The Sun and Other Stars is storytelling at its best, and Pasulka has made magic with this wise, poignant tale of love, community, and the sport that brings them all together!"
— Gail Tsukiyama

"What a smashing novel. Even more intricately braided and moving than her excellent first one. Fans of both Dante and the Azzuri will find plenty to relish and celebrate."
— James McManus

Praise for A Long Long Time Ago and Essentially True

"Resonant moments. . .appealing characters and keen observations."

"Her sweet, generous novel offers hope that her appealing heroine and a nation to often brutalized frequently by the forces of history will both have better tomorrows."

"One of the many gifts of Brigid Pasulka's debut novel, is that it transports us through the outer layers straight into the heart of Poland, brilliantly evoking the country's emotional landscape. . . .A Long Long Time Ago & Essentially True rings hauntingly, echoingly real."

"In this life-affirming novel of past and present, Brigid Pasulka twines the bright colors of fable with the subtler tones of disillusionment, survival, and rebirth. . . .Rarely does a novel succeed so well in evoking place and history, especially with a story as winning as this one. A marvelous debut."
— Nicholas Mones

"At once haunting and exquisitely vibrant, Pasulka's original tale is a treasure, transcending history, time, and place."
— Martha McPhee

"Grand in scope, yet meticulous in detail, Brigid Pasulka's generous and affectionate novel finds universal truths in both its most-dramatic moments and its most-intimate observations. A compassionate, elegant, and moving debut."
— Adam Langer