Never Cook Sober Cookbook: From Soused Scrambled Edggs to Kahlua Fudge Brownies, 100 (Fool)Proof Recipes (Paperback)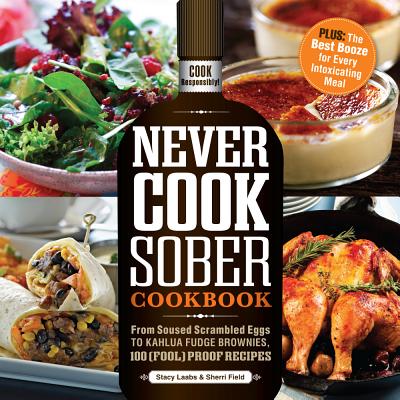 Description
---
Every Happy Chef's Secret—Booze!
The only thing better than homemade is homemade with alcohol. In
Never Cook Sober Cookbook
,
Stacy Laabs
and
Sherri Field
prove that cooking is a lot more fun when you do it sauced—and we're not talking Worcestershire.
With this no-booze-barred guide, every meal you make is a hangover waiting to happen. So unlock the liquor cabinet and get ready to whip up such liquored-up recipes as:
Giddy Raspberry Tea Vodka Granola Yogurt
Bottoms-Up Mudslide Smoothie
Distracted Bourbon Pecan Waffles
Happy Hour Clam Beer Bites
Tipsy Tequila Lime Chicken Tacos
Sassy Salmon in Champagne Sauce
Play-It-Again Gin Scallops
Half-Seas over Lime Rum Shrimp Kebabs
Mixology Cupcakes
Zonked Kahlua Fudge Brownies
With 100 mouthwatering appetizers, entrees, sides, and desserts guaranteed to get your taste buds buzzin', you'll have all you need to drive your family and friends to drink—one drunken dish at a time!
About the Author
---
Stacy Laabs (Olympia, WA) began a lifelong appreciation for wines and liquors after taking a bartending course at the age of twenty-one, combining her two interests into inventive recipes. Sherri Field (Olympia, WA)is an accomplished home brewer and wine maker. She grew up with lively family adventures at restaurants involving the appreciation of great spicy food, family, and great-tasting margaritas.